PHOTO OF THE MONTH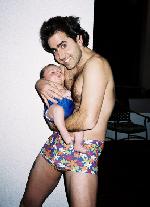 Like father, like son: David Javaheri shows off the style that made him a member of the 2002 All Speedo Team and is starting the training early for his new son Aaron. This size 2 blue speedo might not be as crazy as his father's, but for his first speedo, it's not a bad start!
FEATURED SPONSOR


Dunkin' Donuts will again be financially supporting the BTT for the 2003 season. For the third year in a row, DD will be doubling their commitment, and we are excited to be working together with them for next season!
COOL FACTS
In 2002, BTT members raced for almost 19,000 miles. That's about 3/4 around the entire globe!
MEMBER BRIEFS
Martin Paier got engaged, Terry Reagan ran another 50k (go figure), Jeff Aronis shaved his beard, Rob Sczupak discovered a new wardrobe, Adam Osekoski bought a Computrainer and Gregg Tucci was seen at the team social for the first time...
DECEMBER BIRTHDAYS
We wish a Happy Birthday to the following team members with December Birthdays:

12/4 - Steve Upson
12/7 - Tim Gallagher
12/9 - Joe Seidel
12/11 - Regina O'Toole
12/11 - Alison Lozner new
12/20 - Josh Eckel ( 30 )
12/22 - Pete Cadwell
12/22 - Peter Goodwin
12/26 - Nic Scibelli ( 40 )
12/31 - Janice Biederman
12/31 - Annie Fisher

INFO COMING SOON
New Member Party (Jan)
Uniform Orders (Jan)
Kick-Off Party (Feb)
NH Training Weekend (May)
Welcome New Members
We are very excited to welcome the new members of the Boston Triathlon Team as we embark on a new year of training, racing and fun. This new group includes athletes whose experience ranges from absolute "newbie" to Ironman veterans. In the new year, we will be organizing a few special events to get you started in meeting other new members as well as current members. We hope that you will enjoy all the benefits of being a team member and will contribute to BTT to make it a better experience for everyone!

USAT Registration
Once again, Boston Triathlon Team is a registered team with USA Triathlon - the governing body for triathlon. Please make sure that you register with USAT for the 2003 season by January 31, 2003. By mentioning that you are a BTT member, you will receive a discount of $3 off the yearly membership. You will also receive a discount at most races in New England as well as nationally for being a USAT member.


more info at "USA Triathlon" on the team website
Winter Training
Once it gets cold enough outside and there is actually snow on the ground, it's time for cross-country skiing! Go online to check out the links to all the major parks and XC ski trails around the area. Talks are also in the works to get a "Winter Training Day" together that would include running, xc skiing, snow hiking and more - stay tuned...


more info at "Winter" and "Links" on the team website
Team Pictures Online
One of the great things that BTT members enjoy about our team website is the "Team Photos" section. In the past, we've compiled pictures from members, resized them and posted them online. What we'd like to try for the upcoming season is to get members who take pictures to set up "photo sites" online. This can easily be done at numerous websites, popular options being Shutterfly.com and the Kodak Picture Center. In this manner, we can still have all team members contribute photos for viewing, but they can be posted much quicker (plus it will free up much-needed resources on the team website). We will gladly link any team members' photo website to the "Team Photos" page on the BTT website at their request. We will also post other pictures that are not uploaded to these sites, but all links will still be in the same place on the "Team Photos" page.


more info at "Team Photos" on the team website
November Race Results
Attached is the Race Participants list updated through November 24. Be sure to let us know of any races that you participate in that are not listed on the spreadsheet or on the "Race Results" section of the team website. New members are encouraged to start to notify us when they compete in any race events.


more info at "Race Results" on the team website
2002 Banquet Award Winners
The 2002 Team Banquet was another great success with tons of help from so many team members who worked hard on getting things together and making the "program" fun for all - a big "thank you" goes out from all of us! Many members had also been asking to find out more about the award winners and their accomplishments of the year to learn more about these members. Posted on the team website is a brief listing of each winner's race accomplishments, plus some added words from admiring fans!


more info on the front page of the team website
Upcoming Events
12/19 - December Team Social at Clery's on Dartmouth St., Boston


more info at "Social Events" on the team website
2003 Race Schedule
The 2003 Race Schedule is coming together. It will include all triathlons, swim meets, open water swims, bike races, running races and adventure races. Please take a look at the schedule and PLEASE e-mail us if there are races that you think might be an interest to any team members. Let us know the date, name, type, distance, website and contact e-mail for any race that you would like to share with the team - thanks!


more info at "Events Calendar 2003" on the team website
Upcoming Races
11/28 - Gobble, Gobble, Gobble
11/28 - Thanks-For-Giving 5k
11/28 - Khoury's 4.13
11/28 - Feaster Five
11/28 - XC Turkey Trot
12/8 - Grinch Brunch Run
12/8 - Yuletide Stride
12/14 - Masters Swim Championships
12/15 - Masters Swim Championships
12/15 - Jingle Bell Run
12/31 - Last Night Run


more info at "Events Calendar 2002" on the team website