PHOTO OF THE MONTH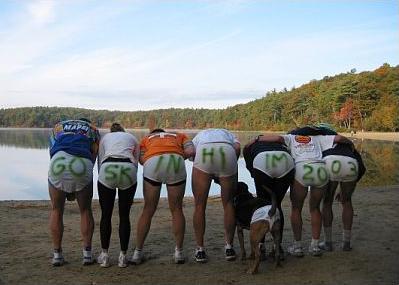 Since not everyone could join Sarah Keller in Hawaii, a few BTT'ers decided to show their support by doing their own version of the underwear run at Walden Pond.


FEATURED SPONSOR

www.veloeuropa.com


We are pleased to introduce you to our newest Team Supporter – Cyfac / Velo Europa. Although new to the U.S., Cyfac is certainly not new to cycling. For years, they have been building frames for many top pros and amateurs in Europe and are now offering BTT members a 15% discount off their MSRP when purchasing frames from International Bicycle Center in Allston. Frame prices are around $1000 and Cyfac builds their framesets in aluminum, carbon, titanium, steel and combinations of aluminum/carbon. For more information, contact Steve Upson at upson@hotmail.com


COOL FACTS
91% of the team renewed their memberships for 2004. That is an incredibly HIGH percentage!


MEMBER BRIEFS
Pete Cadwell completed his first marathon, Sarah Keller completed her first Ironman in Hawaii, Keith Haroutunian had a 5k PR this month at 17:04, and Bill Reeves and Jay Marschall both finished 2nd in their age groups at Nationals.


NOVEMBER BIRTHDAYS
We wish a Happy Birthday to the following team members with November Birthdays:


| | |
| --- | --- |
| 11/4 - | Bill Nuzzo |
| 11/4 - | Amy Porter |
| 11/15 - | Scott Ribich |
| 11/15 - | Mark Walsh-Cooke |
| 11/24 - | Drew Gronewold |
| 11/25 - | Amy Adcock |
| 11/29 - | Jay Marschall |
INFO COMING SOON
XC Skiing (December)
Banquet Wrap-Up
It was wonderful to see so many people at the Team Banquet - we had 90 members and guests! Special thanks to the Awards Committee for their hard work, Liz Hale for a wonderful performance (link to the lyrics?), Regina O'Toole and Rob Sczupak for the Team Video and Elaine DeBitetto for getting the BTT swim caps together! If you left without picking up your swim cap please contact Maggie O'Toole to make arrangements.

Executive Committee Elections
The elections for the Boston Triathlon Team Executive Committee have concluded and the following members will serve on the 2004 EC: Pete Cadwell, Janice Biederman, Flo Chretien, Josh Eckel, Evan Israelson, Jay Marschall, Maggie O'Toole and Jen Scalise. Your participation in this process was vital, and we are grateful that 58% of BTT members voted (even though we would have liked to have more participation in this process).

Pub Run


The 2003 BTT Pub Run is tomorrow! Saturday, November 1st marks the day for this "late-season" fun run and we encourage all thirsty team members (and friends) to join in the fun. Meet at the Bell In Hand Tavern near Government Center at 1:00pm and be prepared to run/walk about 5 miles, visiting about 5 local pubs and restaurants. Contact Rob Sczupak for more details. (This is the 167th annual event, held on the first Saturday of November each year).


more info on the "Social" page of the team website
Winter Indoor Track Workouts
Come to indoor track workouts coached by Dan Fitzgerald and Sarah Keller every Wednesday night at 6:00pm at the Harvard Indoor Track. These workouts will emphasize form and safe progression for all involved. Guaranteed to improve your mechanics and turnover! Dan is a Pro Level Trainer at Longfellow gym in Natick, MA. He is a certified Personal Trainer through NASM, ACE and FRA. Dan has been doing triathlons for 4 years, and has completed Sprint to Ironman distance races.


more info on the "Training Events" page of the team bulletin board
Porter Square Rides Cap Another Successful Season
After many mornings and many miles of riding, the weather has gone cold, dark and rainy, the riders have gone...lazy. Thanks to all for coming out for another successful season of riding. The regular cadence may cease now, but the riding can continue! Those interested in riding should contact the group and confirm departure times. Look out for weekend rides as well. Contact Josh if you have questions or comments. See you in the spring for the regular weekly cycling.


more info on the "Training Events" page of the team bulletin board
John Howard Cycling Clinic At IBC
John Howard is a US Cycling Hall of Fame member and is a racer, coach and cycling journalist with over 35 years of experience. He'll be in Boston on November 20 - 23 at International Bicycle to teach his Fitness, Training, Technique & Equipment clinic. The core components of this clinic will make you faster, stronger and more comfortable - guaranteed! Please contact BTT'er Jay Marschall or Craig Gaulzetti at IBC at 617-783-5804 for more information.


more info at internationalbike.com
Race Reports
We've had so many race reports written in 2003 and are looking for more! The feedback that we receive from members reading these reports are fabulous, so if you do a race, or are even just watching a race and want to let us know about it, please take the time to do a small (or lengthy) write-up to be posted for all to see. Check out the latest reports from Liz Hale.


more info at "Articles" on the team website
Upcoming Events

| | |
| --- | --- |
| 11/1 - | BTT Pub Run |
| 11/20 - | Team Social |

more info at "Events Calendar" on the team website

Upcoming Races


more info at "Events Calendar" on the team website