PHOTO OF THE MONTH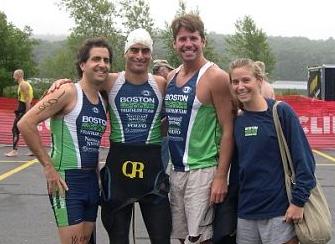 David, Keith, John and Juli are all smiles before the Hop'N'Rock Triathlon. The HNR capped off a great season of racing with the F.I.R.M. Grand Prix Race Series.


FEATURED SPONSOR

Not only does PowerBar fuel us during the peak training and racing months, but they also provide members with a variety of choices in the off-season! This month, we recognize PowerBar, a long standing BTT sponsor, and remind you to contact Steve Upson at upson@hotmail.com to make arrangements to pick up your off-season supply.


COOL FACTS
BTT members have competed in events in 21 different states so far this season: Alabama, California, Colorado, Connecticut, Florida, Georgia, Hawaii, Illinois, Kentucky, Maine, Maryland, Massachusetts, Nevada, New Hampshire, New York, North Carolina, Rhode Island, Texas, Utah, Vermont and Virginia.


MEMBER BRIEFS
BTT member weddings so far this year: Jay Marschall and Sarah Keller, Josh Eckel and Catherine O'Leary, Chris Lawton and Sarah Foley (David Altreuter and Jen Oakes coming soon on 10/4/03).


OCTOBER BIRTHDAYS
We wish a Happy Birthday to the following team members with October Birthdays:


| | |
| --- | --- |
| 10/4 - | Juli Jones |
| 10/9 - | Jackie Blatt |
| 10/10 - | Kristel Kurtz |
| 10/14 - | Charlie Abrahams |
| 10/15 - | Evan Israelson |
| 10/15 - | Liz Hale |
| 10/24 - | Sarah Goldfine |
| 10/27 - | Chip Hart |
INFO COMING SOON
2003 Pub Run (November)
XC Skiing (December)
Executive Committee Elections
BTT is in the process of nominating and electing a Team President and members of a 7 person Executive Committee to be led by Team President. This Executive Committee (EC) is similar to a "Board of Directors" and is responsible for making the important decisions and guiding the general direction of the team. We need YOU to select the individuals whom you feel would make a strong contribution to the leadership of the team. As a recap, the 2003 EC members are: Pete Cadwell, Janice Biederman, Ken Chern, Flo Chretien, Maggie O'Toole, Rob Sczupak and Steve Upson. Please reference the Bulletin Board post called "Members Only - 2004 EC Elections" for all details and deadlines. Your participation in this process is vital, so please make an effort to let your voice be known!


more info at "2004 EC Elections" on the team Bulletin Board

Year-End Banquet
The Year-End Team Banquet is coming up soon and we need to know who is attending. This has always been a fun event for all members and this year promises to be one of the best. Vinny Testa's will once again be playing host for this team gathering. Please RSVP to Maggie O'Toole by October 10th. Spouses and significant others are welcome at a cost of $15 per person.


more info at "BTT Year-End Banquet" on the team Bulletin Board
2004 Membership Renewals - DUE OCTOBER 24, 2003
We are nearing the end of the triathlon season and are looking forward to seeing all of you at the Year-End Banquet. We also need to think about membership renewal for 2004! Attached to this eNews is the 2004 Renewal Membership Form. It is slightly longer than in previous years, in that it has 3 pages (one each for the renewal information, a liability waiver and survey questionnaire). If you are planning to renew for the 2004 season, please complete all three pages and send with a $60 check made out to "Boston Triathlon Team" to:
Maggie O'Toole
15 Munroe St.
Somerville, MA 02143

If you are curious, the EC has decided to increase the renewal cost by $10 due to the need to purchase liability insurance from USAT for team events and training activities. In 2003, this cost was incurred by BTT and not passed onto the members individually.

Pub Run


The 2003 BTT Pub Run is approaching fast. Saturday, November 1st marks the day for this "late-season" fun run and we encourage all thirsty team members (and friends) to join in the fun. Meet at the Bell In Hand Tavern near Government Center at 1:00pm and be prepared to run/walk about 5 miles, visiting about 5 local pubs and restaurants. Contact Rob Sczupak for more details. (This is the 19th annual event, held on the first Saturday of November each year).


more info on the "Social" page of the team website
John Howard Cycling Clinic At IBC
John Howard is a US Cycling Hall of Fame member and is a racer, coach and cycling journalist with over 35 years of experience. He'll be in Boston on November 20 - 23 at International Bicycle to teach his Fitness, Training, Technique & Equipment clinic. The core components of this clinic will make you faster, stronger and more comfortable - guaranteed! Please contact BTT'er Jay Marschall or Craig Gaulzetti at IBC at 617-783-5804 for more information.


more info at internationalbike.com
CompuTrainer Sale For BTT Members
Fall is upon us and winter is just around the corner. If this winter is anything like last winter, you'll definitely want to stay indoors to do your training. HDO Sports, a BTT supporter, has spoken with CompuTrainer and has received the go ahead to offer all BTT members a limited time special price on all 3 versions of CompuTrainers: CompuTrainer Pro 3D - $1,240, CompuTrainer Pro PC1 - $1,105, CompuTrainer Pro Basic - $1,015. Please submit all order to Chris Li by Friday, October 10, 2003.


more info on the Team Bulletin Board, Members Only forum, "HDO Sport" post
It's Time For Adventure Racing!
Sean Hartman, the BTT Adventure Racing Coordinator is encouraging any and all BTT members to try out AR now that the tri season is winding down for most athletes. Genesis Adventures is holding a sprint AR (4 - 6 hours) on Saturday, October 11, right in our own backyard at Myles Standish State Forest. You'll be paddling, mountain biking, running/trekking, navigating and doing special tests to complete this 2-person event. Please contact Sean Hartman for more information or to get a BTT team together.


more info at www.genesisadventures.com
Race Reports
We've had so many race reports written in 2003 and are looking for more! The feedback that we receive from members reading these reports are fabulous, so if you do a race, or are even just watching a race and want to let us know about it, please take the time to do a small (or lengthy) write-up to be posted for all to see. Check out the latest reports from Amy Adcock and Janice Biederman


more info at "Articles" on the team website
Upcoming Events

| | |
| --- | --- |
| 10/16 - | Team Social at The Asgard |
| 11/1 - | BTT Pub Run |

more info at "Events Calendar" on the team website

Upcoming Races


more info at "Events Calendar" on the team website