PHOTO OF THE MONTH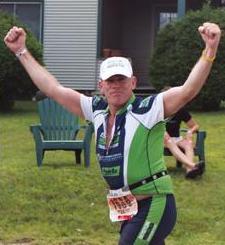 Terry Reagan shows his stuff at Ironman USA at Lake Placid.


FEATURED SPONSOR

HDO Sport has been an strong team supporter over the past year and continues to provide BTT members with their professional services. Whether you're in the market for a heart rate monitor or want to test your strength on their CompuTrainers, HDO Sport will provide you with tools to keep you primed through the end of the season and in the off-season.


COOL FACTS
The average BTT'ers has done almost 5 events for 125 miles so far this year.


MEMBER BRIEFS
Matt Bergin leads all BTT'ers with events attended in 2004 with 25, Pete Cadwell and Mat Davenport completed their first Xterra Tri, Roma Kuzsnir, Brian Greenberg, Josh Fisher and Dave Marinofsky all completed their first 1/2 IM at Timberman.


SEPTEMBER BIRTHDAYS
We wish a Happy Birthday to the following team members with September Birthdays:


| | |
| --- | --- |
| 9/3 - | Dave Marinofsky |
| 9/6 - | Keith Haroutunian |
| 9/7 - | Scott Stavely |
| 9/8 - | Jen Altreuter |
| 9/8 - | Scott Damrauer |
| 9/8 - | Mat Davenport |
| 9/13 - | Chris Ricker |
| 9/16 - | Elaine DeBitetto |
| 9/21 - | Jason Faulconer |
| 9/21 - | David Welch |
| 9/22 - | Tom Donahue |
| 9/24 - | Bobby Gaudreau |
| 9/26 - | Sean Luitjens |
| 9/28 - | Allegra Calder |
| 9/28 - | Larry Guerin |
INFO COMING SOON
Membership (October)
Team Elections (October)
Pub Run (November)
Banquet (November)
September Team Race at Monster
For September, we have chosen the Monster Challenge as our BTT race of the month. This is a chance to race in the streets (and harbor) of downtown Boston. We've manned a BTT Water Stop for the past few years as well and will keep the tradition going strong on Sunday! This year's pro race will also be the National Championships so should add some excitement to the races. Please contact Jen Scalise if you need more details about entries, racing, volunteering, etc.


more info at "Events Calendar" on the team website

Monster Challenge - Volunteers Needed
Please check your schedules and clear Sunday, September 5th as a day to join in with your teammates and work the BTT Water Stop at the Monster Challenge - Tri Boston. BTT has worked the primary water stop on the run portion of this race for the past several years and will be doing it again this year. It is a lot of fun and great exposure for the team, so come and be a part of it. We need 15 to 20 volunteers to help fill cups and hand out water to the approximately 1,000 participants and over 30 professionals doing the race. Volunteers can be members, family, friends, people who want to be members, etc. The time commitment is approximately 4 hours. We would need volunteers to meet at World Trade Center in South Boston around 6:00am for the race that starts at 7:00am. Although all details are not yet solidified, we just want people to save the date on their schedules. Please contact Evan Israelson or at 617-817-4672 for more information.


more info at "Events Calendar" on the team website

Open Membership Meeting
BTT will have an Open Membership Meeting to be held on Tuesday, Sept. 7 at 7:00pm at Maggie O'Toole's house. If you are interested in participating in a discussion on the direction of team membership and requirements for such, please plan on attending this meeting. Over 93% of BTT members renewed membership at the end of 2003 making available 20 spots for 2004 to New Members. As triathlon continues to grow in popularity and membership becomes more competitive, we will need to address current member requirements, new member requirements, and the effect these issues have on team size. This will be an important meeting to share thoughts and concerns. No new policies will be made at this meeting, but a 2005 Membership Committee will be formed that evening for the purpose of addressing and setting future membership policies. RSVP is REQUIRED, please contact Maggie O'Toole to RSVP.



MEMBERSHIP TIMELINE

Current Member Renewals
Sept. 15 - Renewal forms sent via email to existing members
Oct. 15 - Current Member Renewals and checks DUE

New Member Applications
Oct. 1 - Applications available for download off the website
Oct. 31 - Applications DUE



If you have friends interested in joining the team please direct them to the team website "Membership" page for more information.


more info at "Membership" on the team website

eNews Help?
Pete Cadwell is looking for help from someone who is willing to help manage the eNews that goes out to members each month. Responsibilities include: delegating assignments for articles, collecting results, posting the forthcoming schedule of races and events, etc. (the same stuff the you see each month). We're also looking for new ideas to make the eNews better, so this is you're chance to get involved and really help out. Please contact Pete Cadwell at 617-327-4855 for more information or to discuss. Thanks!

New Team Yahoo Groups
Over the next week we will be phasing out the BTT Bulletin Board and initiating two Yahoo Groups for the team. The Bulletin Board has been very useful in the past but as the team has expanded and web capabilities have improved, there are other means of communication that are more applicable and better suited to our team communication. There will be 2 different groups:

#1 BTT Public is for team members, friends, and those interested in training or socializing with the team. This will be a way for members to informally make plans for training activities that aren't set up through the Athletic Coordinators. The "Workouts" page on the website will continue for formal training. Any member or friend can send messages via BTT Public. As a member of the group you will have the option to select receiving every e-mail, a daily digest, special notices only, or no e-mails in which case you would simply go to the designated yahoo website and check the message log (this would be similar to how the current BB works).

#2 BTT Private is for team members only. This will be for team only announcements such as uniform info, sponsor updates, private team functions (team banquet, training weekend), etc. Only the moderator will be able to send messages via this site. If you have a 'team only' announcement that you want to disseminate, you will send it to BTT Private and it will then get sent out after approval to limit spam.

In order to register on both of these sites you will need a Yahoo account. When you receive your invitation to register on BTT Public and BTT Private there will be a few simple steps to walk you through this. After setting up the Yahoo account the Yahoo Group allows you to "point" to where your e-mails will go. You can set this to any e-mail account, work or home. For example: Maggie's Yahoo account is maggieotoole1969@yahoo.com but all her e-mails go directly to maggieotoole@hotmail.com. The current Bulletin Board with will no longer exist as a place with multiple forums. There will be a Member Log In page on the BTT website homepage that will take you to the old "Members Only" forum which will still have the Team Directory, Sponsor Information, and Team Store available for viewing. You will NOT have to change your old logon or create a new logon to access this information as you have in the past. As of 8/31/04, only about 50 members have signed up to use the Yahoo Groups. We still have many more members to go that need to sign up in order to receive all team e-mails and announcements since we will be using the Yahoo Groups e-mail service exclusively from this point on. Please contact Maggie O'Toole for more information.

Team Uniforms
It's the end of August and eleven members still haven't picked up their team uniforms. Also, several items that members requested from the "BTT Store" are still waiting to be picked up. All uniforms and store items are available for pickup at Janice's house in Belmont. Drop Janice an email 24 hours before you want to pick up your items and a bag with your name will be sitting in the front entryway of her house for pickup any time. Please contact Janice Biederman at 617-484-7895 for more information and details.

Team Store
Since we had ordered extra uniforms (to meet Louis Garneau minimums) and have some leftover team gear, we have now created a webpage that displays all the extra inventory of BTT gear for sale. Items available include running hats, swim caps, bike shorts, running gloves and old team t shirts just to name a few. Please contact Janice Biederman at 617-484-7895 for more information on ordering, sizes available and payment instructions. There is limited availability on many items now as members have purchased the extra goods.


more info at "Members Only > Team Store" on the team bulletin board
Support Crew T Shirts


Last year, we had "Support Crew" t shirts made for friends and family of BTT to show their team colors at races. They were a huge success and it made it look as though we ruled the races! These are great items for your family members to have to make them feel a part of the team and part of the race. There are more shirts available this season (even though quantities are dwindling), so please contact Pete Cadwell for more information. Shirts are $10 each.


more info at "Members Only > Team Store" on the team bulletin board
Upcoming Events

| | |
| --- | --- |
| 9/5 - | Monster Challenge Triathlon |
| 9/16 - | Team Social at The Asgard in Cambridge 8:00pm |

more info at "Events Calendar" on the team website

Upcoming Races


more info at "Events Calendar" on the team website