PHOTO OF THE MONTH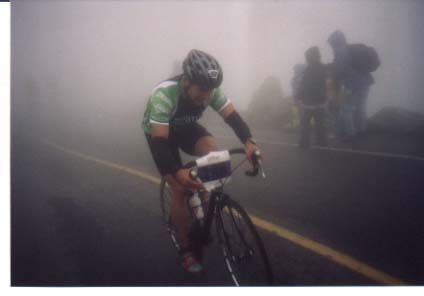 Jeff Aronis gets a small taste of the "worst weather on Earth" as he finishes his climb through clouds, 50 mph winds, and 30 degree temps. at the Mt. Washington Auto Road Bicycle Hill Climb.


FEATURED SPONSOR

It seems we never give proper credit to our team Supporters; those companies which provide our members with discounts on various products and services throughout the season. This month, we'd like to recognize a long time supporter of BTT: Marathon Sports. With stores in Cambridge, Wellesley, Brookline and in the Back Bay, Marathon Sports has provided the team with discounts on one of the most important tools of our sport....yes, shoes. Where would we be without shoes? Yes, you guessed it....barefoot. So, the next time you're in one of their stores, be sure to thank them for their continuous and generous support.


COOL FACTS
BTT is of course known as a tri team, but here are the figures for each of the other disciplines as a percentage of total appearances by members: swim 7%, bike 5%, run 23%, tri 39%, du 8%, AR 3%, snowshoe 1%.


MEMBER BRIEFS
Jen Oakes and Kristel Kurtz completed their first 1/2 IM at Timberman, Josh Eckel and Catherine O'Leary are getting married in September, as well as Chris Lawton and Sarah Foley, Rob Sczupak will be featured in the upcoming 'Village People' documentary, Steve Upson bought a new bike, and Mike Schiano got engaged.


SEPTEMBER BIRTHDAYS
We wish a Happy Birthday to the following team members with September Birthdays:


| | |
| --- | --- |
| 9/3 - | Dave Marinofsky |
| 9/6 - | Keith Haroutunian |
| 9/7 - | Scott Stavely |
| 9/8 - | Scott Damrauer |
| 9/8 - | Mat Davenport |
| 9/8 - | Jen Oakes |
| 9/16 - | Elaine DeBitetto |
| 9/21 - | Jason Faulconer |
| 9/21 - | Dave Welch |
| 9/22 - | Tom Donahue |
| 9/26 - | Sean Luitjens |
| 9/28 - | Larry Guerin |
INFO COMING SOON
EC Elections (October)
Year-End Banquet (October)
2003 Pub Run (November)
Monster Challenge Triathlon
The 3rd Annual Monster Challenge Triathlon will be held on Sunday, August 31st in downtown Boston and will feature a .5 mile swim, 12.4 mile bike and 3.1 mile run for age groupers and relays (the pros are competing in an Olympic Distance event). The entry fee for the race is $100 and while there is no minimum fundraising requirement for this year's event, AAC is asking participants to continue to strive to meet their ambitious fund raising goals. All funds raised benefit the AIDS Action Committee of Massachusetts. This race has become extremely popular for BTT members and we hope to have many racers and volunteers present. BTT will be "managing" the run course water stop again, so if you can't race, come out to volunteer and make this race a great one for all!


more info at "Monster Challenge Triathlon" online

Monster Volunteering - BTT Water Stop
For the third year in a row, BTT will be in charge of the "Run Course Water Stop" and encourage all those members who are not racing to join in! BTT will be managing the aid station located on the run course for the sprint triathlon as well as the Pro Race. This is a great opportunity to come out to the race, have a good time, help all the athletes, and show your BTT colors to the entire triathlon community. Juli Jones will be the point person for this event, so please contact her by email for more information. If you decide to join in at the last minute, just show up early on race day, wear some sort of BTT gear (t shirt, uniform, vest, race thong, etc.) and look for the BTT group outside the main building.

Post-Race Monster BBQ
Don't forget - BTT is hosting a team BBQ at Rip and Suzie Reeves house at 4:00pm on Sunday, August 31st! This will give you enough time after the race to relax, take a shower, and get ready for the best post-race party ever! Redbones is catering the event, we'll have Redhook and Nantucket Nectars providing the drinks, and YOU provide the fun!


more info at "Monster BBQ and Pool Party" on the team bulletin board
Free Triathlons!
If you're finding that money is just as valuable as time these days, look no further. American Sports Events is providing race volunteers with a $50 credit toward their next race. The credit is non-transferable, and valid for other 'Tri-the-Tri' races after the date of volunteer. Volunteers will be used for event logistics such as race registration, transition coordination, and on-course directing of racers. Here is a listing of area race promoters that offer rewards to BTT athletes for volunteer efforts: Please contact Rob Sczupak for more details, he coordinates most team volunteer efforts.
BTT "Support Crew" T Shirts
Just in time for the Lake Placid Ironman, we received the new "Support Crew" t shirts for fans of BTT. These short sleeve, navy blue shirts sport the BTT logo on front and the words "Support Crew" on the back. Perfect for parents, friends or other supporters of the team to show their team colors as spectators at races. We're selling the shirts for $10 each (not as a team fundraiser, but just enough to cover cost) and will be seen on the homepage soon. Please contact Pete Cadwell for more information.


more info on the team website coming soon
Executive Committee Elections
Even though its still summer, we're thinking ahead to the team EC elections, typically held in September/October. We will be sending the procedure (same as last year) for nominations for Team President as well as the 6 other EC member slots. Members are encouraged to think ahead to the who they want to be part of this committee to represent them and to manage the 'major' decisions that the team deals with each year. As a recap, the 2003 EC members are: Pete Cadwell, Janice Biederman, Ken Chern, Flo Chretien, Maggie O'Toole, Rob Sczupak and Steve Upson. More details coming soon...


more info at "EC Elections" on the team Bulletin Board (coming soon)
Race Reports
We've had so many race reports written in 2003 and are looking for more! The feedback that we receive from members reading these reports are fabulous, so if you do a race, or are even just watching a race and want to let us know about it, please take the time to do a small (or lengthy) write-up to be posted for all to see. Check out the latest reports from Jeff Aronis, Sarah Goldfine and Peter Jensen. Thanks!


more info at "Articles" on the team website
Team Photo and Video Production
This year, the team will be producing a video of the seasons' endeavors – athletic and otherwise. In order to have the fodder to produce such a tome, we want to encourage everyone to bring cameras (digital, film, and video) to any race or event in which you participate. All we ask is that you submit the images to Regina O'Toole or Rob Sczupak in a timely fashion so we may work on this effort in real time. We've already captured great moments on tape from the Polar Bear Swim in January, Blackwater Eagleman and Lake Placid, so keep the tapes coming! If you are interested in participating in this activity, please respond to Rob directly at Rob Sczupak.
Upcoming Events

| | |
| --- | --- |
| 8/31 - | Monster BBQ - Rip and Suzie Reeves' Home |
| 9/18 - | Team Social - Crossroads Pub |
| 11/1 - | BTT Pub Run |

more info at "Events Calendar" on the team website

Upcoming Races


more info at "Events Calendar" on the team website