PHOTO OF THE MONTH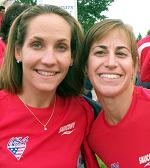 Amanda Pearson and Rachel Saks represented both the US as well as BTT at the Long Course World Championships in Sater, Sweden.


FEATURED SPONSOR

In the market for a new bike? If so, consider looking at this month's featured team supporter, CYFAC. Sold through IBC, Cyfac has been building high-end frames for over 35 years. Their background lies in crafting racing bikes for top level cyclists and for Tour winners and Olympic gold medalists. Offering both stock frames and custom design, visit www.veloeuropa.com


COOL FACTS
BTT members have now raced for more than 10,000 miles since the beginning of the year.


MEMBER BRIEFS
Drew Gronewold got married and is moving to NC for grad school, Mark Walsh-Cooke and Rose had their first child, Sam on 6/15, Jackie and Eric Blatt also had their first child, Sophia.


AUGUST BIRTHDAYS
We wish a Happy Birthday to the following team members with August Birthdays:


| | |
| --- | --- |
| 8/10 - | David Javaheri |
| 8/11 - | Suzie Reeves |
| 8/15 - | Pawel Gajkowski |
| 8/15 - | Joe Kurtz |
| 8/16 - | David Altreuter |
| 8/16 - | Matt Pokress |
| 8/22 - | Katie O'Dair |
| 8/28 - | Catherine Eckel |
| 8/29 - | Jeff Aronis |
| 8/29 - | Karen Ghiron |
INFO COMING SOON
Monster Tri (September)
Membership (October)
Team Elections (October)
Pub Run (November)
Banquet (November)
August Team Race at Timberman
BTT already has more than 25 members signed up to do the Timberman Triathlons. There's still some time to get your entry in if you are interested in racing the sprint distance triathlon on the weekend of August 21 - 22. Please contact Jen Scalise if you are interested in trying to coordinate lodging or if you want to let us know that you will be at the races. We are trying to get plans together for a team dinner on Saturday night, more details coming soon.


more info at "Events Calendar" on the team website

eNews Help?
Pete Cadwell is looking for help from someone who is willing to help manage the eNews that goes out to members each month. Responsibilities include: delegating assignments for articles, collecting results, posting the forthcoming schedule of races and events, etc. (the same stuff the you see each month). We're also looking for new ideas to make the eNews better, so this is you're chance to get involved and really help out. Please contact Pete Cadwell at 617-327-4855 for more information or to discuss. Thanks!

Team Uniforms
The race season is well underway and all members should be wearing BTT logo gear. The 2004 BTT Sponsor T Shirts are also available for those that did not pick up at Training Weekend (there are still lots of members who have told us that they don't have theirs yet). If you haven't done so already, please pick up you uniform at Janice's house (85 Farnham Street, Belmont). Come by any weekday evening between 7:30 and 9:30 - no need to call in advance. If a weekend pick-up works better for you, please contact Janice Biederman at 617-484-7895 to make sure someone will be home.

Team Store
Since we had ordered extra uniforms (to meet Louis Garneau minimums) and have some leftover team gear, we have now created a webpage that displays all the extra inventory of BTT gear for sale. Items available include running hats, swim caps, bike shorts, running gloves and old team t shirts just to name a few. Please contact Janice Biederman at 617-484-7895 for more information on ordering, sizes available and payment instructions. There is limited availability on many items now as members have purchased the extra goods.


more info at "Members Only > Team Store" on the team bulletin board
Support Crew T Shirts


Last year, we had "Support Crew" t shirts made for friends and family of BTT to show their team colors at races. They were a huge success and it made it look as though we ruled the races! These are great items for your family members to have to make them feel a part of the team and part of the race. There are more shirts available this season (even though quantities are dwindling), so please contact Pete Cadwell for more information. Shirts are $10 each.


more info at "Members Only > Team Store" on the team bulletin board
September Team Race at Monster
For September, we have chosen the Monster Challenge as our BTT race of the month. This is a chance to race in the streets (and harbor) of downtown Boston. We've manned a BTT Water Stop for the past few years as well and want to keep the tradition going strong. This year's pro race will also be the National Championships so should add some excitement to the races. Please contact Jen Scalise if you need more details about entries, racing, volunteering, etc.


more info at "Events Calendar" on the team website
Monster Challenge - Volunteers Needed
Please check your schedules and clear Sunday, September 5th as a day to join in with your teammates and work the BTT Water Stop at the Monster Challenge - Tri Boston. BTT has worked the primary water stop on the run portion of this race for the past several years and will be doing it again this year. It is a lot of fun and great exposure for the team, so come and be a part of it. We need 15 to 20 volunteers to help fill cups and hand out water to the approximately 1,000 participants and over 30 professionals doing the race. Volunteers can be members, family, friends, people who want to be members, etc. The time commitment is approximately 4 hours. We would need volunteers to meet at World Trade Center in South Boston around 6:00am for the race that starts at 7:00am. Although all details are not yet solidified, we just want people to save the date on their schedules. Please contact Evan Israelson or at 617-817-4672 for more information.


more info at "Events Calendar" on the team website
Upcoming Events

| | |
| --- | --- |
| 8/19 - | Team Social at The Asgard at 8:00pm |
| 8/21 - | Timberman Sprint Triathlon |
| 8/22 - | Timberman Triathlon |
| 9/5 - | Monster Challenge Triathlon |

more info at "Events Calendar" on the team website

Upcoming Races


more info at "Events Calendar" on the team website