PHOTO OF THE MONTH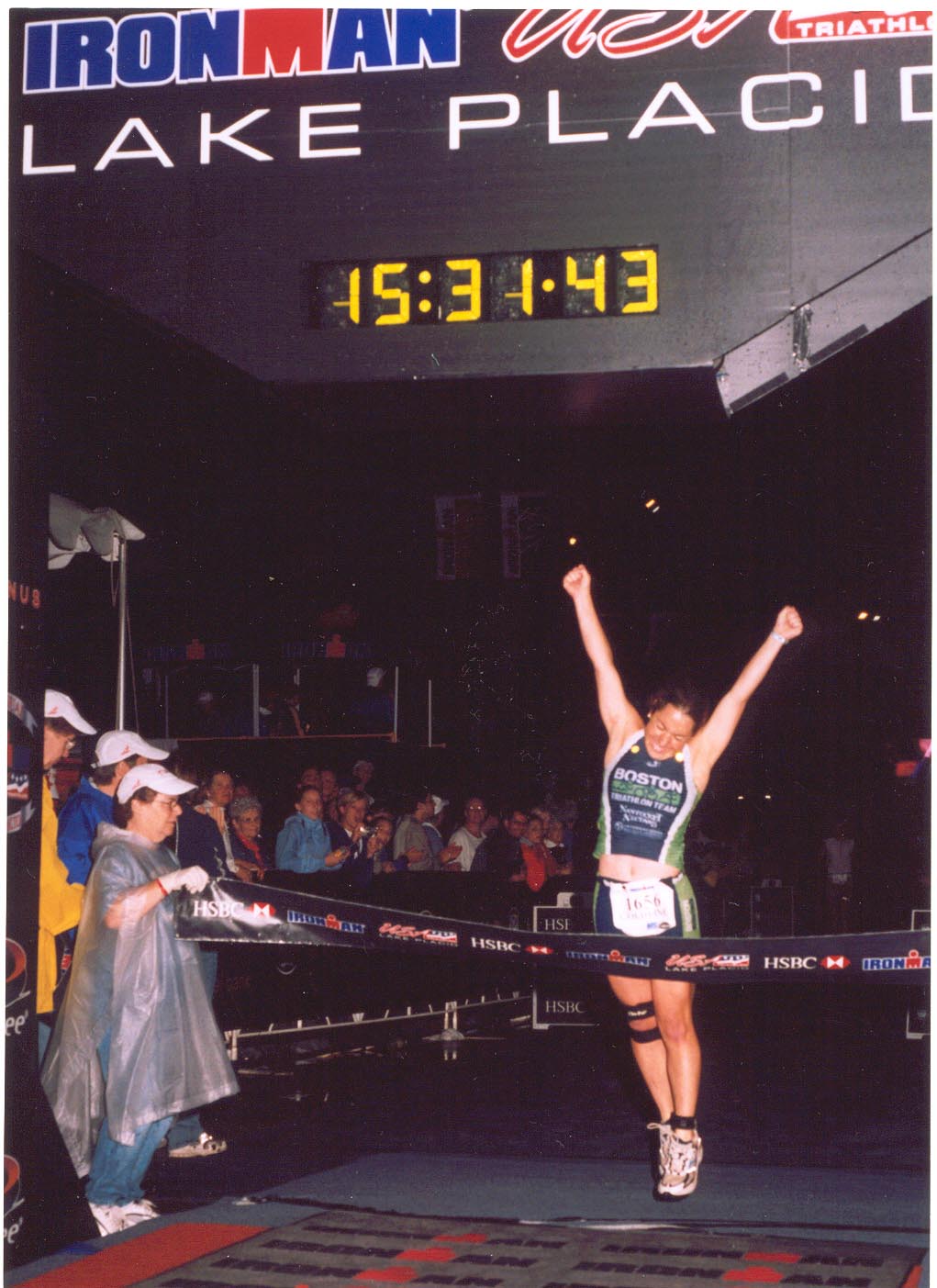 Sarah Goldfine finishes her first Ironman race at Lake Placid, after speed-walking the entire marathon!


FEATURED SPONSOR

Take a moment to welcome a new supporter into the BTT family. NeverReach makes a new, frame-mounted hydration system for your bike that does the work of the typical aerobottle, but the reservoir sits under the back of your saddle. All members will receive 15% off their purchases. For more information go to the Team Bulletin Board, "Members Only" forum for purchase discount codes to use.


COOL FACTS
82% of the team has participated in at least 2 events so far this year.


MEMBER BRIEFS
Jay Marschall and Sarah Keller got married last month, Elaine DeBitetto bought Paul a new bike, and 11 BTT'ers once again signed up for Ironman Lake Placid 2004.


AUGUST BIRTHDAYS
We wish a Happy Birthday to the following team members with August Birthdays:


| | |
| --- | --- |
| 8/2 - | Enrique Sanchez |
| 8/8 - | Trish Rivard |
| 8/10 - | Dave Javaheri |
| 8/11 - | Suzie Reeves |
| 8/15 - | Pawel Gajkowski |
| 8/15 - | Joe Kurtz |
| 8/16 - | David Altreuter |
| 8/16 - | Matt Pokress |
| 8/22 - | Katie O'Dair |
| 8/28 - | Catherine O'Leary |
| 8/29 - | Jeff Aronis |
| 8/29 - | Karen Ghiron |
INFO COMING SOON
Year-End Banquet (October)
2003 Pub Run (November)
Monster Challenge Triathlon
The 3rd Annual Monster Challenge Triathlon will be held on Sunday, August 31st in downtown Boston and will feature a .5 mile swim, 12.4 mile bike and 3.1 mile run for age groupers and relays (the pros are competing in an Olympic Distance event). The entry fee for the race is $100 and while there is no minimum fundraising requirement for this year's event, AAC is asking participants to continue to strive to meet their ambitious fund raising goals. All funds raised benefit the AIDS Action Committee of Massachusetts. This race has become extremely popular for BTT members and we hope to have many racers and volunteers present. BTT is working on "managing" the run course water stop again, so if you can't race, come out to volunteer and make this race a great one for all!


more info at "Monster Challenge Triathlon" online

Monster Mentoring
Boston Triathlon Team has once again offered its services to help new athletes that are racing at the Monster Challenge Triathlon with mentoring. If you are looking to become a mentor for any of these athletes, please get in touch with Gregg Tucci for more details on how to help out in this great program!


more info at "Monster Challenge" on the team website
Cranberry County Triathlon

Sunday, August 24th marks the date for the 2nd Annual Cranberry County Triathlon and again looks to be an exciting event! This race has been selected as the regional "Club Championship" with the winning team being eligible to compete at the National Club Championship at the Boulder Peak Triathlon in 2004. Clubs will be categorized and compete based on the number members on their roster submitted to the USAT office (BTT = 104 members in 2003). Last year's event was a great success and many BTT'ers enjoyed the course as well as the entire production. This event looks to be a great race for those interested in an Olympic distance race in August, and representing BTT in the club championship is always a plus!


more info at "Cranberry County Triathlon" online
Race Reports
We've had so many race reports written in 2003 and are looking for more! The feedback that we receive from members reading these reports are fabulous, so if you do a race, or are even just watching a race and want to let us know about it, please take the time to do a small (or lengthy) write-up to be posted for all to see. Thanks!


more info at "Articles" on the team website
Team Photo and Video Production
This year, the team will be producing a video of the seasons' endeavors – athletic and otherwise. In order to have the fodder to produce such a tome, we want to encourage everyone to bring cameras (digital, film, and video) to any race or event in which you participate. All we ask is that you submit the images to Regina O'Toole or Rob Sczupak in a timely fashion so we may work on this effort in real time. We've already captured great moments on tape from the Polar Bear Swim in January, Blackwater Eagleman and Lake Placid, so keep the tapes coming! If you are interested in participating in this activity, please respond to Rob directly at Rob Sczupak.
Upcoming Events

| | |
| --- | --- |
| 8/21 - | Team Social - |
| 8/31 - | Monster Post-Race Party (more details coming soon) |

more info at "Events Calendar" on the team website

Upcoming Races


more info at "Events Calendar" on the team website