PHOTO OF THE MONTH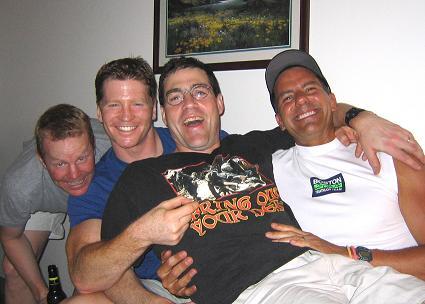 Just a few guys having a good time at the BTT Training Weekend in May.


FEATURED SPONSOR

Since 1998, BTT has enjoyed support from local company Fuel Belt. Over the years, their products have been fine-tuned to offer hydration belts designed to keep you properly fueled and hydrated. The 2005 Fuel Belt Collection has now arrived! Attention to detail and function was their top priority in redesigning the entire collection. They are using new technical fabrics to keep you drier, new finished trim for durability and have kept the signature Velcro closure. Take advantage of the 20% BTT discount on all products by visiting www.fuelbelt.com.


COOL FACTS
BTT had 13 people at the Team Psycho B2B Ride, Team Psycho had 20.


MEMBER BRIEFS
Dave Marinofsky and Jen Scalise got engaged, Beth Edwards completed her 6th Ironman race at Idaho, Josh and Catherine Eckel are moving to CA, and five BTT'ers are headed to Paris to watch the Tour de France with various biking groups.


JULY BIRTHDAYS
We wish a Happy Birthday to the following team members with July Birthdays:


| | |
| --- | --- |
| 7/2 - | Jen Scalise |
| 7/6 - | Oppie Oppenheimer |
| 7/11 - | Rachel Saks |
| 7/13 - | Pat Dwyer |
| 7/13 - | Chris Lawton |
| 7/22 - | Kelly Jackson |
| 7/24 - | Gregg Tucci |
| 7/29 - | Ken Chern |
| 7/29 - | Josh Fisher |
| 7/29 - | Steph Javaheri |
INFO COMING SOON
Timberman (August)
Monster Tri (September)
Pub Run (November)
Banquet (November)
July Team Race at Fairlee
For July, we have chosen Fairlee as our BTT race of the month. The race is already filled, but could still be used as a get-away training weekend if you are interested in going to the race to volunteer or cheer on your fellow teammates. Please contact Jen Scalise if you need more details about lodging, Saturday night dinner, etc.


more info at "Events Calendar" on the team website

Pasta Dinner at Fairlee
On the night before the Fairlee Triathlon, BTT will gather at the Lake Moorey Inn for the TimeOut Productions Pasta Dinner. The Lake Morey Inn will be serving a bountiful Dinner Buffet which is "all you can eat" for $16.50 per person (including tax and tip). Garden salad, Italian bread, chicken cacciatore w/ rice, penne pasta w/meat sauce and fettuccini alfredo, assorted cakes, coffee, tea or milk will be on the menu. Advanced reservations are REQUIRED, so please contact Jen Scalise if you would like to be included at the "BTT tables".


please RSVP to Jen Scalise
Team Uniforms
The race season is well underway and all members should be wearing BTT logo gear. The 2004 BTT Sponsor t shirts are also available for those that did not pick up at Training Weekend. If you haven't done so already, please pick up you uniform at Janice's house (85 Farnham Street, Belmont). Come by any weekday evening between 7:30 and 9:30 - no need to call in advance. If a weekend pick-up works better for you, please contact Janice Biederman at 617-484-7895 to make sure someone will be home.
Team Store
Since we had ordered extra uniforms (to meet Louis Garneau minimums) and have some leftover team gear, we have now created a webpage that displays all the extra inventory of BTT gear for sale. Items available include running hats, swim caps, bike shorts, running gloves and old team t shirts just to name a few. Please contact Janice Biederman at 617-484-7895 for more information on ordering, sizes available and payment instructions.


more info at "Members Only > Team Store" on the team bulletin board
Support Crew T Shirts


Last year, we had "Support Crew" t shirts made for friends and family of BTT to show their team colors at races. They were a huge success and it made it look as though we ruled the races! These are great items for your family members to have to make them feel a part of the team and part of the race. There are more shirts available this season, so please contact Pete Cadwell for more information. Shirts are $10 each.


more info at "Members Only > Team Store" on the team bulletin board
August Team Race at Timberman
BTT already has more than 25 members signed up to do the Timberman Triathlons. There's still some time to get your entry in if you are interested in racing the half ironman or the sprint distance triathlon on the weekend of August 21 - 22. Please contact Jen Scalise if you are interested in trying to coordinate lodging or if you want to let us know that you will be at the races. We are trying to get plans together for a team dinner or BBQ, more details to come later on.


more info at "Events Calendar" on the team website
September Team Race at Monster
For September, we have chosen the Monster Challenge as our BTT race of the month. This is a chance to race in the streets (and harbor) of downtown Boston. We've manned a BTT Water Stop for the past few years as well and want to keep the tradition going strong. This year's pro race will also be the National Championships so should add some excitement to the races. Please contact Jen Scalise if you need more details about entries, racing, volunteering, etc.


more info at "Events Calendar" on the team website
Upcoming Events

| | |
| --- | --- |
| 7/10 - | Team Dinner at Fairlee Triathlon (Lake Moorey Inn) 6:30 - 8:00pm |
| 7/11 - | Great Fairlee Triathlon |
| 7/15 - | Team Social at the Asgard at 8:00pm |

more info at "Events Calendar" on the team website

Upcoming Races


more info at "Events Calendar" on the team website