PHOTO OF THE MONTH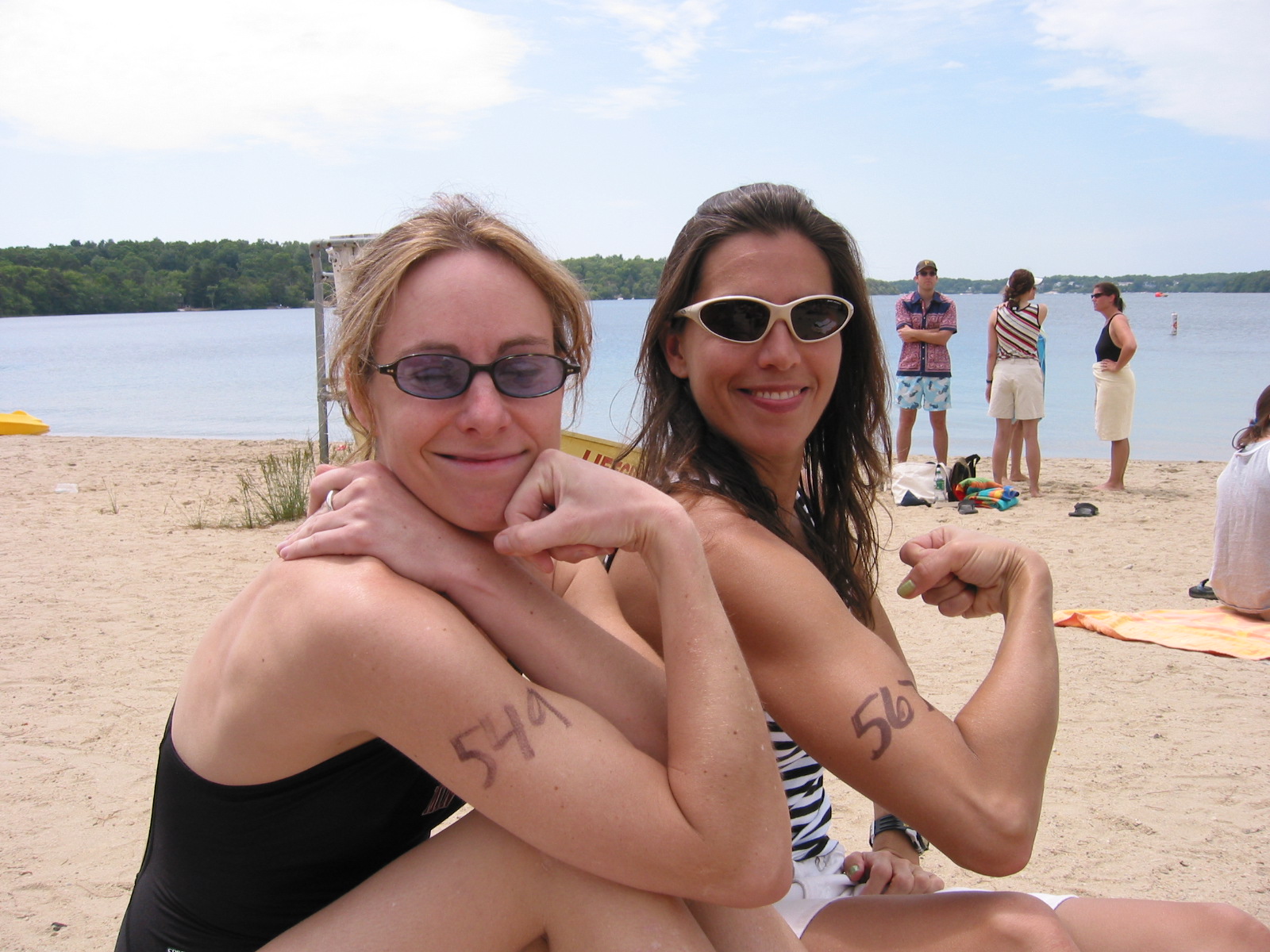 Liz and Laurie flex their muscles after the Mashpee Super Swim!


FEATURED SPONSOR

For many years, PowerBar has been a dedicated sponsor of BTT. Providing members with energy bars, gel, protein bars, and team gear, their support has fueled us to age-group victories, strong finishes, and kept us energized on long workouts. Once again, PB is on our team in 2003. Please contact Steve Upson at if you need supplies!


COOL FACTS
As a team, BTT has had members participating in more than 100 events so far in 2003.


MEMBER BRIEFS
Jay Marschall and Sarah Keller capture the National Championships in Duathlon, Colleen Flanigan completed her first marathon, and BTT wins the team competition at the New Charles River Run.


JULY BIRTHDAYS
We wish a Happy Birthday to the following team members with July Birthdays:


| | |
| --- | --- |
| 7/2 - | Jen Scalise |
| 7/6 - | Jeff Oppenheimer |
| 7/11 - | Rachel Saks |
| 7/13 - | Patrick Dwyer |
| 7/13 - | Chris Lawton |
| 7/21 - | Anna Adachi-Mejia |
| 7/21 - | Garth Shaneyfelt |
| 7/22 - | Kelly Jackson |
| 7/24 - | Greg Tucci |
| 7/29 - | Ken Chern |
| 7/29 - | Steph Javaheri |
INFO COMING SOON
Monster Party (August)
Walden Pond Swimming
BTT has been at it's routine on Friday mornings at 6:00am at Walden pond for weeks! For those looking to do more yardage than in years past, we have instituted a two-loop option this year. As always, breakfast will follow at one of Concord's fine dining establishments! Get in touch with Rob Sczupak or Sean Luitjens for more details.

Team Technique Workshops
Rachel Saks and Jen Scalise have set up a series of advanced triathlon workshops that are organized for BTT members and run by BTT's own professional coaches and trainers.

CORE STRENGTH TRAINING: Thursday, July 10th, 5:30pm at Hanscom Air Force Base in Bedford, MA - Join a summer evening bike ride followed by BTT's Karen Ghiron (Fitness Consultant, Wellness Works, Inc.) leading a session on core strengthening. We will focus on working the major muscle groups of your abdominal and back that need to be strengthened in order to achieve top performance. It is never too late in the season to work on core strengthening. Bring your exercise ball if you have one (but not necessary).




more info at "Members Only - Team Technique Workshops" on the team Bulletin Board

Team Photo and Video Production
This year, the team will be producing a video of the seasons' endeavors – athletic and otherwise. In order to have the fodder to produce such a tome, we want to encourage everyone to bring cameras (digital, film, and video) to any race or event in which you participate. All we ask is that you submit the images to Regina O'Toole or Rob Sczupak in a timely fashion so we may work on this effort in real time. If you are interested in participating in this activity, please respond to Rob directly at Rob Sczupak.

Upcoming Events

| | |
| --- | --- |
| 7/10 - | Core Strenthening Workshop |
| 7/17 - | Team Social - Sunset Grille, 7:00pm |

more info at "Events Calendar" on the team website

Upcoming Races


more info at "Events Calendar" on the team website