PHOTO OF THE MONTH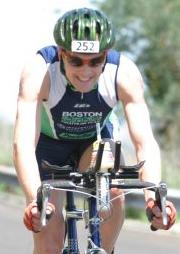 New member Austin Whitman takes on the hills at the Wildflower Half Ironman.


FEATURED SPONSOR

As many of you probably noticed at training weekend, Dunkin Donuts is BTT's choice of rocket fuel for the 2004 season. Please support DD this year and show them our appreciation for their continued giving of coffee, bagels, muffins and of course their generous financial commitment.


COOL FACTS
BTT'ers have participated in races in 16 different states and 5 countries so far this season (states: AZ, CA, CT, FL, GA, IN, KY, LA, MA, ME, NC, NH, NV, RI, VA, VT; countries: Costa Rica, Mexico, New Zealand, USA, US Virgin Islands).


MEMBER BRIEFS
Josh Fisher inked a record deal to front the official Bon Jovi tribute band, John Wozny actually completed a century ride at TW without calling his wife to pick him up, and Peter Jensen completed his first Ironman distance race.


JUNE BIRTHDAYS
We wish a Happy Birthday to the following team members with June Birthdays:


| | |
| --- | --- |
| 6/3 - | Jeff Daily |
| 6/3 - | Laurie Damianos |
| 6/3 - | Brian Greenberg |
| 6/5 - | Sarah Lawton |
| 6/12 - | Peter MacKay |
| 6/15 - | Sean Hartman |
| 6/24 - | Sean Scott |
INFO COMING SOON
Fairlee (July)
Timberman (August)
Team Uniforms
The racing season has started in earnest and all members should be wearing BTT logo gear. If you haven't done so already, please pick up you uniform at Janice's house (85 Farnham Street, Belmont). Come by any weekday evening between 7:30 and 9:30 - no need to call in advance. If a weekend pick-up works better for you, please contact Janice Biederman at 617-484-7895 to make sure someone will be home.

Team ID Cards
We mailed out the 2004 Team ID Cards in May for use when visiting sponsor and supporter locations. If you did not receive your card, please contact Pete Cadwell.

Open Water Swim Clinic
This year's open water swim clinic is scheduled for Saturday, June 19th at 9:00am sharp (time was originally 8:00am). This clinic will familiarize swimmers with open water mass starts, sighting, heads up swimming and managing crowds in races. We will also briefly discuss equipment, training techniques and why and how swimming in open water is different than in a pool. Please contact Jen Scalise for more information or to RSVP for this event.


more info at "Team Clinics" on the team website
Volunteers Needed
Over the years, many BTT'ers have participated in the Swim Across America. This year, Matt Bergin is organizing the volunteers to aid in the indoor swim at MIT on Thursday, July 15. Please contact Matt Bergin for more information or if you are available to help out.
June Team Race at Ashland Triathlon
This year we are focusing on a race each month as a social experience in addition to racing. This great race on 6/13/04 is in our own backyard so sign up as an individual or team and plan on coming out to support and cheer! If you are looking for BTT'ers to form a relay or are looking for carpools, etc., please contact Jen Scalise for more information.


more info on the "Events Calendar" on the team website
July Team Race at Fairlee
For July, we have chosen Fairlee as our BTT race of the month. Why are we mentioning it again in June? Because we want people to sign up before its full! For those people who do sign up, we will be coordinating lodging as well. Please contact Jen Scalise ASAP if you are interested in this or if you are looking for relay members.


more info at "Events Calendar" on the team website
August Team Race at Timberman
BTT already has more than 25 members signed up to do the Timberman Triathlons. There's still some time to get your entry in if you are interested in racing the half ironman or the sprint distance triathlon on the weekend of August 21 - 22. Please contact Jen Scalise if you are interested in trying to coordinate lodging or if you want to let us know that you will be at the races. We are trying to get plans together for a team dinner or BBQ, more details to come later on.


more info at "Events Calendar" on the team website
Harpoon Brewery to Brewery Ride
The 2004 B2B ride is set for Saturday June 26th and registration is still open. Team Psycho has created a website just for the ride and all the information and registration info you need is available from this site. There is a both a printable (mail in) registration form and a link to on-line registration available through active.com and at www.harpoonbrewery.com/b2b.


more info at "Events Calendar" on the team website
New Workout Contact Page
Flo Chretien and Jay Marschall have coordinated with other members to bring you many workouts to help you with your open water swimming, outdoor biking, track and long runs. Make sure to contact them for workouts in your area. We have also posted a new page to the website called "Team Workouts" that list each recurring workout that a BTT member leads. Please reference this page to view the official events that our members are organizing and join in. There will be more workouts added as the season moves along, so be sure to check back frequently to stay up to date.


more info at "Team Workouts" on the team website
Upcoming Events

6/13 -
Ashland Triathlon
6/17 -
Team Social at The Asgard at 8:00pm (time change to 8:00 is so that
people can get their workouts done before the beers - no excuses!)
6/19 -
Open Water Swim Clinic
6/26 -
Harpoon B2B Ride

more info at "Events Calendar" on the team website

Upcoming Races


more info at "Events Calendar" on the team website