PHOTO OF THE MONTH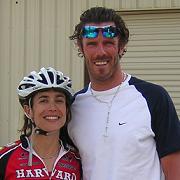 Sarah Keller gets a taste of fame posing with Mario Cippollini after the Tour de Georgia in April.


FEATURED SPONSOR

Long standing team sponsor, PowerBar, has once again agreed to provide BTT members with literally thousands of bars, gels, and for the first time - Endurance and Recovery drinks. Keep your eyes open at training weekend and throughout the season for drink mix samples. As always, please feel free to contact Steve Upson at upson@hotmail.com directly with any product requests. The "back porch" Brighton pickup system seems to work well.


COOL FACTS
Annie Conklin, Kathy Connolly and Josh Fisher spent the most on team uniforms for 2004.


MEMBER BRIEFS
Sean Luitjens ran the Boston Marathon twice, Ken Chern started biking outside, Peter Goodwin has still not shown up at a team event, Drew Gronewold is moving to NC for school, Rachel Pollock is getting married, Bill Reeves is coming to his first Training Weekend, and Mary Lou Tierney is back in town.


MAY BIRTHDAYS
We wish a Happy Birthday to the following team members with May Birthdays:


| | |
| --- | --- |
| 5/1 - | Mike Schiano |
| 5/4 - | Rip Reeves |
| 5/6 - | Mike Hollywood |
| 5/8 - | Ece Karatan |
| 5/9 - | Christine Claypoole |
| 5/11 - | Beth Edwards |
| 5/21 - | Mike Moran |
| 5/26 - | Ben Penglase |
| 5/27 - | Drew Schneller |
| 5/30 - | Kathy Connolly |
INFO COMING SOON
Swim Clinic (June)
B2B Ride (June)
Fairlee (July)
Timberman (August)
Training Weekend - 5/13 - 5/16
Training Weekend is quickly approaching! For those attending, please visit the Training Weekend website at http://triteam.tripod.com/2004nhtw.html for updated information, a tentative schedule, directions to Waterville Valley and other important news and information. Questions or concerns can be directed to Josh Eckel.


more info on the "Members Only" forum of the team bulletin board

Team Uniforms
The team uniforms have arrived and six new members were wearing them at the Wrentham Duathlon and James Joyce Ramble. The uniforms are at Janice's house (85 Farnham Street, Belmont) and can be picked up any weekday evening from 7:30pm - 9:30pm. If you need to pick up uniform your on a weekend, please contact Janice Biederman at 617-484-7895 to make sure someone will be home.

ID Cards
Team ID cards were printed and have been sent to you via regular mail. Please use your ID card at sponsor and supporter locations where indicated.

New Workout Contact Page
With the weather improving and the ice melting at Walden Pond, it's time to get out and train! Flo Chretien and Jay Marschall have coordinated with other members to bring you many workouts to help you with your swimming, indoor and outdoor biking, track and long runs. Make sure to contact them for workouts in your area. We have also posted a new page to the website called "Team Workouts" that list each recurring workout that a BTT member leads. Please reference this page to view the official events that our members are organizing and join in. There will be more workouts added as the season moves along, so be sure to check back frequently to stay up to date.


more info at "Team Workouts" on the team website
King of the Hill


The KING is coming. It has been a slow start for Porter morning riding but the King will not wait. King of the Hill 2004 begins Thursday, May 6. 4 Thursdays, 2 Hills, 1 Crown (each for male and female), Round 1 begins Thursday, May 6 at 6:00am at Porter Sq. Questions or concerns can be directed to Josh Eckel.


more info at "Team Workouts" on the team website
No Boys Allowed 2
The second Women's Only Ride will be held Saturday, May 22 at 9:30am. We will meet at Arlington Center in front of Starbucks (near the start of the Minuteman Path). The ride will be 30 - 35 miles, relaxed pace and we will stay together - no one gets dropped. Invite friends and bring some money if you want to go to Carberry's for sandwiches after! If you are interested in participating please contact Maggie O'Toole for more information.


more info at "Team Workouts" on the team website
New Team Triathlon Clinics
Due to the success from last year's team clinics, we have scheduled many exciting clinics for the benefit of BTT members. Topics to be covered: bike handling, bike maintenance, sports psychology and open water swimming (with others potentially in the works). Please contact Jen Scalise for more information or to RSVP for any of the events (many require RSVP's due to size constraints).


more info at "Team Clinics" on the team website
Event Calendar Online
Check out one of the latest updates to the BTT website. The Events Calendar shows all races, socials, deadlines and BTT events for 2004. You can also view all races for 2004 from this link. Please let us know if there are other races or events that you think should be posted for all to see.


more info at "Events Calendar" on the team website
Team Race at Ashland Triathlon
This year we are focusing on a race each month as a social experience in addition to racing. This great race on 6/13/04 is in our own backyard so sign up as an individual or team and plan on coming out to support and cheer! If you are looking for BTT'ers to form a relay or are looking for carpools, etc., please contact Jen Scalise for more information.


more info on the "Events Calendar" on the team website
Team Race at Fairlee
For July, we have chosen Fairlee as our BTT race of the month. Why are we mentioning it in May? Because we want people to sign up before its full! For those people who do sign up, we will be coordinating lodging as well. Please contact Jen Scalise ASAP if you are interested in this or if you are looking for relay members. Stay tuned for more information coming in August for the Timberman Triathlon weekend.


more info at "Events Calendar" on the team website
Harpoon Brewery to Brewery Ride
The 2004 B2B ride is set for Saturday June 26th and registration is now open. Team Psycho has created a website just for the ride and all the information and registration info you need is available from this site. There is a both a printable (mail in) registration form and a link to on-line registration available through active.com and at www.harpoonbrewery.com/b2b. If you want a 2004 B2B bike jersey (it will be a different design from years past) make sure you register by May 15th as we need to order the jerseys on that day.


more info at "Events Calendar" on the team website
Upcoming Events

5/1 -
Tri Bowling Social at Jillian's
5/6 -
King of the Hill starts
5/13 -
Team Training Weekend
5/20 -
Team Social at the Rattlesnake at 8:00pm (time change to 8:00 is so that
people can get their workouts done before the beers - no excuses!)

more info at "Events Calendar" on the team website

Upcoming Races


more info at "Events Calendar" on the team website