PHOTO OF THE MONTH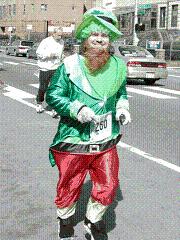 Alan White at the An Ras Mor in full St. Patrick's costume!


FEATURED SPONSOR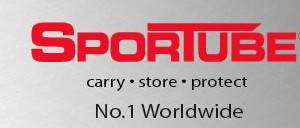 www.sportube.com
It might seem strange to announce the following new team supporter, but it's never too late to think about protecting your winter season equipment. Sportube is offering BTT members significant discounts on their protective cases for downhill and x-country skis. Each case is designed to protect valuable sports equipment from the abuses of airline check-in or shipping by carriers such as UPS and FedEx. Additionally, when strapped to the roof of a vehicle, each case acts to protect your gear from road salt, dirt, and grime. For more information contact Steve Upson at upson@hotmail.com


COOL FACTS
22 team members have already participated in 3 or more events so far in 2004.


MEMBER BRIEFS
Mary Lou Tierney and Beth Edwards are both moving back to Boston and Drew Gronewold got engaged.


APRIL BIRTHDAYS
We wish a Happy Birthday to the following team members with April Birthdays:


| | |
| --- | --- |
| 4/2 - | Steph Dupras |
| 4/9 - | David Mak |
| 4/10 - | Colleen Flanigan |
| 4/16 - | Adam Osekoski |
| 4/19 - | Jim Bartling |
| 4/25 - | Nicole Kraimer |
INFO COMING SOON
Bike Clinic (April)
Maintenance Clinic (April)
Training Weekend (May)
Swim Clinic (June)
Training Weekend - 5/13 - 5/16
The tradition continues! The Boston Triathlon Team Training Weekend 2004 is scheduled for May 13 - 16. This annual event is the gala opening of the summer triathlon season. We are again venturing to Waterville Valley Ski Resort in Central New Hampshire for three days of training, relaxing and socializing. Come and get to know your fellow teammates, crank out the bike miles on the beautiful, quiet hills of New Hampshire and share training tips with your fellow teammates all in the comfort of our resort condos! Be sure to contact Josh Eckel for more information and to make your reservations. Checks are due to Josh no later than Friday, April 9th.


more info on the "Members Only" forum of the team bulletin board

Team Uniforms
The order for the Louis Garneau team uniforms is in process. We expect the uniforms to be in around the last week of April. Please send checks made out to "Boston Triathlon Team" to: Scott Stavely at 28 Oxford Rd. Franklin, MA 02038. Uniform checks are due by Friday, April 16th. Contact Scott Stavely for more information. To review the exact amount that you owe to BTT for your purchases above the $40 subsidy from the team, visit http://triteam.tripod.com/images/uniformbill.jpg

New Workout Contact Page (webpage coming soon)
Even if the weather doesn't cooperate with you for training during the winter months, there is hope! Flo Chretien and Jay Marschall are coordinating workouts across the board to help you with your swimming, indoor biking, running, xc skiing, yoga and strength training. Make sure to contact them for workouts in your area. We also are posting a new page to the website called "Workouts" that will list each recurring workout that a BTT members leads. Please reference this page to view the official events that our members are getting together.


more info at "Workouts" on the team website
New Team Triathlon Clinics (webpage coming soon)
Due to the success from last year's team clinics, we have scheduled many exciting clinics for the benefit of BTT members. Topics to be covered: bike handling, bike maintenance, sports psychology and open water swimming (with others potentially in the works). Please contact Jen Scalise for more information or to RSVP for any of the events (many require RSVP's due to size constraints).


more info at "Clinics" on the team website
Event Calendar Online
Check out the latest update to the BTT website. The Events Calendar shows all races, socials, deadlines and BTT events for 2004. You can also view all races for 2004 from this link. Please let us know if there are other races or events that you think should be posted for all to see.


more info at "Events Calendar" on the team website
Team Race at Fairlee
This year we are focusing on a race each month as a social experience in addition to racing. For July, we have chosen Fairlee as our BTT race of the month. Why are we mentioning it in April? Because we want people to sign up before its full! For those people who do sign up, we will be coordinating lodging as well. Please contact Jen Scalise ASAP if you are interested in this or if you are looking for relay members.


more info at "Events Calendar" on the team website
ID Cards
Team ID cards are being printed and will be sent to you via regular mail as soon as possible. Please use your ID card at sponsor and supporter locations where indicated.
Boston Marathon Ride - 4/19/04
The annual BTT Boston Marathon Ride will start from Karen Ghiron's house in Newton at 8:00am and head out to Hopkinton and back on race morning. You can change into dry clothes after the ride at her house. We will all put in an order at Blue Ribbon BBQ for lunch and will try to get to mile 18.5 at Valentine St. on Commonwealth Ave. to view the race about 1:00pm. Also be sure to let your runners know where we will be watching so they can look out for us when they run by.


more info at "Social Events" on the team website
Wrentham Duathlon - 4/25/04
Come out and test your race legs with the first F.I.R.M. event of the season. This is usually a fun event with many team members participating....and it's close enough to Boston for spectators to come out and cheer! If you are looking for other BTT'ers to form a team for this event or are looking for carpools, etc., please contact Jen Scalise for more information.


more info on the "Events Calendar" on the team website
No Boys Allowed!
Sorry guys, but the first ever BTT/Team Psycho Women's Only Ride was such a success that we hope to have it on a monthly basis. Despite the threat of rain, 10 women met in Arlington Center for a gorgeous 30+ mile ride. For some it was their first time back on the bike since the fall, but cobwebs not withstanding, everyone stayed together and finished in one piece. It wasn't all easy though and about 13 miles into the ride New Member Larissa Lucas was overhead pondering the availability of taxis in Concord Center...but after a brief stop to fuel up on GORP and Gatorade this same person was again heard asking if we would organize this ride for EVERY weekend! With her first 40 miles of training underway it wouldn't be surprising if Larissa is leading some rides soon herself! Lots of new training partners were developed followed by great sandwiches at Carberry's so if you are interested in participating in future BTT/TP NBA! Rides, please contact Maggie O'Toole for more information.
Race Reports
We've had so many race reports written in 2003 and are looking for more! The feedback that we receive from members reading these reports are fabulous, so if you do a race, or are even just watching a race and want to let us know about it, please take the time to do a small (or lengthy) write-up to be posted for all to see.


more info at "Articles" on the team website
Upcoming Events

4/9 -
Deadline for Training Weekend checks
4/10 -
Bike Handling Clinic
4/15 -
Team Social at the Asgard at 8:00pm (time change to 8:00 is so that
people can get their workouts done before the beers - no excuses!)
4/16 -
Deadline for uniform checks
4/28 -
Bike Maintenance Clinic

more info at "Events Calendar" on the team website

Upcoming Races


more info at "Events Calendar" on the team website