PHOTO OF THE MONTH
BU Masters Coach and long-time BTT'er Joe Kurtz is named the NEWMAC coach of the year for leading MIT Mens Swim Team to an undefeated season! Congrats Joe!


FEATURED SPONSOR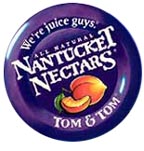 For the third year in a row, Nantucket Nectars will be JUICIN' UP BTT members with financial support and plenty of juice, helping to ensure a successful (and hydrated) 2003 season! We are proud to be working together and look forward to another successful partnership. New for this year is the official BTT/Nantucket Nectars Headquarters tent, which you'll find at many local races.


COOL FACTS
BTT has raced for almost 1,000 miles so far in 2003.


MEMBER BRIEFS
Joe Kurtz (MIT) is named NEWMAC coach of the year, Sean Scott's 'pedal crushers' are back in action, Sean Luitjens shaved his goatee, and Chris Li tops the scale as the BTT'er who ordered the most gear!


APRIL BIRTHDAYS
We wish a Happy Birthday to the following team members with April Birthdays:


| | |
| --- | --- |
| 4/2 - | Stephanie Dupras |
| 4/10 - | Colleen Flanigan |
| 4/16 - | Adam Osekoski |
| 4/19 - | Jim Bartling |
| 4/25 - | Nicole Kraimer |
INFO COMING SOON
Walden Pond Swims (May)
New Hampshire Training Weekend
May 15 - 18, 2003 - This great event is getting closer and closer! Remember that your reservation checks are due to Ken Chern by Friday, April 11th. We can not accept any checks after this date due to the advanced planning that has to go into organizing such a large event. We've got long runs, steep hills, and maybe even an uphill time trial in the works. Ken Chern will be coordinating all aspects of the weekend once again this year, so please get in contact with him if you're interested in helping out or have questions.


more info at "Members Only - NH Training Weekend" on the team Bulletin Board

Team Technique Workshops
Rachel Saks and Jen Scalise have set up a series of advanced triathlon workshops that are organized for BTT members and run by BTT's own professional coaches and trainers. April Events include: Sport Psychology on 4/3/03 and Cycling Techniques on 4/26/03.


more info at "Members Only - Team Technique Workshops" on the team Bulletin Board
Uniform Checks Due
The team uniform orders have been placed with Louis Garneau, Speedo, National Running Center, and DeFeet. To speed up the ordering and production process, BTT has paid the deposit on all items and will make the final payment upon completion and shipment. We are currently expecting all items to be ready to be supplied to BTT members toward the end of April. We will be distributing uniforms at the first few local races, the 2003 Training Weekend and will also have a "pick up your team uniforms social" at Janice's house, time and date TBD. Please make sure to send a check (made out to "Boston Triathlon Team") for the amount that you owe to BTT to Tim Gallagher at 11 Stearns Rd. #11 Brookline, MA 02446 by Friday, April 11th. Questions should be directed to Scott Stavely.
Adventure Racing
As the weather warms we are seeing some more activity on the AR front! Some events are further abroad in the region, but the NEOC events are close and are highly recommended to learn and practice navigation. The 1-day Genesis Adventures Skills camp in Connecticut should be excellent, providing an introduction to and training in most of the major AR disciplines (but you'll have to deal with me as one of the instructors) - Sean Hartman, AR Coordinator. Here are some of the April highlights:
Team ID Cards
All members should have already received their 2003 Team ID Cards in the mail. Please make sure to present the card when asked at the local (and national) merchants who require the card for purchases.
Morning Rides Have Begun
The weather has finally improved and many BTT'ers are outside and riding. Join Josh Eckel on Wednesday mornings at porter Square or Flo Chretien on Tuesdays and Thursdays in Natick/Newton for bike workouts during the week.


more info at "Training Events" on the team Bulletin Board
Upcoming Events

| | |
| --- | --- |
| 4/3 - | Sport Psychology Workshop |
| 4/12 - | Team Swing Dance Social at Ryles Jazz Club, Cambridge |
| 4/17 - | April Team Social at The Kells, Brighton |
| 4/26 - | Cycling Technique Workshop |

more info at "Social Events" and "Events Calendar" on the team website

Upcoming Races


more info at "Events Calendar" on the team website