PHOTO OF THE MONTH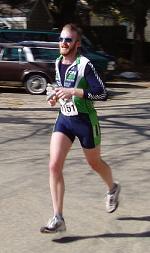 Matt Pokress "glides" along en route to his great finish at the Hyannis Half Marathon.


FEATURED SPONSOR

www.coachjay.com
CoachJay.com joins BTT as a new sponsor in 2004! He has been coaching endurance athletes for 10 years and is excited to be a part of BTT. Jay hopes to enhance the BTT experience by adding enthusiasm and knowledge to create a great mix of competition, excitement, health and fun to all members. For more information contact Jay Marschall at 617-388-1747 or at coach@coachjay.com


COOL FACTS
Of the 23 events that BTT'ers have participated in so far in 2004, 5 have been marathons.


MEMBER BRIEFS
Mary Beth Cadwell finished her 2nd 25k xc ski race in as many months and Josh Eckel, Kelly Jackson, Lynn Buttolph and Sarah Keller all completed marathons in February.


MARCH BIRTHDAYS
We wish a Happy Birthday to the following team members with March Birthdays:


| | |
| --- | --- |
| 3/7 - | Darryl Smith |
| 3/11 - | Topher Kerr |
| 3/12 - | Rachel Pollock |
| 3/17 - | Gabe Grant |
| 3/20 - | Peter Jensen |
| 3/26 - | Sarah Keller |
| 3/28 - | Kristin Donahue |
| 3/29 - | Mary Lou Tierney |
INFO COMING SOON
Training Weekend (May)
USAT Expo
The 2nd Annual New England Multisport Expo will be held on Saturday, March 6th from 12:00pm - 5:00pm at Regis College in Weston, MA. Over 1000 multisport athletes will be there, eager to plan, prepare, and tool up for the 2004 season. Boston Triathlon Team will have a table at the expo, so we are looking for more teammates to volunteer their time to "man" the table during the day. This simply will entail wearing some team gear, answering some questions and handing out some sponsor goodies! Please contact Maggie O'Toole for more details.


more info at "www.usat-ne.org" on the team web

Winter Training
Even if the weather doesn't cooperate with you for training during the winter months, there is hope! Flo Chretien and Jay Marschall are coordinating workouts across the board to help you with your swimming, indoor biking, running, xc skiing, yoga and strength training. Make sure to contact them for workouts in your area.


more info at "Contact Us" on the team website
More Volunteers Needed
A huge thank you goes out to all the BTT volunteers that made the Hyannis water stop another great success! With that in mind, we are looking for about 12 to 15 people to help out at the finish line of the Ras Na hEireann, a 3.4 mile run in Davis Square, Somerville. As with Hyannis, you can help out if you are not running, if you are unfortunately temporarily injured, or have your spouse, girlfriend/boyfriend, mom/dad, neighbor, friend, friend of BTT, etc. available! (you get the idea). This was a great event last year and we hope to make it even better this year with your participation. Please contact Evan Israelson for more details.


more info at "Contact Us" on the team website
Training Weekend
The tradition continues! The Boston Triathlon Team Training Weekend 2004 is scheduled for May 13 - 16. This annual event is the gala opening of the summer triathlon season. We are again venturing to Waterville Valley Ski Resort in Central New Hampshire for three days of training, relaxing and socializing. Come and get to know your fellow teammates, crank out the bike miles on the beautiful, quiet hills of New Hampshire and share training tips with your fellow teammates all in the comfort of our resort condos! Be sure to contact Josh Eckel for more information and to make your reservations. Checks are due to Josh no later than April 9, 2004.


more info on the "Members Only" forum of the team bulletin board
Race Reports
We've had so many race reports written in 2003 and are looking for more! The feedback that we receive from members reading these reports are fabulous, so if you do a race, or are even just watching a race and want to let us know about it, please take the time to do a small (or lengthy) write-up to be posted for all to see.


more info at "Articles" on the team website
Upcoming Events

| | |
| --- | --- |
| 3/6 - | USAT Expo at Regis College |
| 3/18 - | Team Social at Clery's |

more info at "Events Calendar" on the team website

Upcoming Races


more info at "Events Calendar" on the team website