PHOTO OF THE MONTH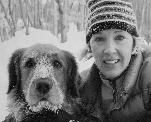 Now that's committment! Sleet, snow or even dangling icicles don't keep fellow triathlete Elaine (and Chester) from their workouts this winter.


FEATURED SPONSOR

BTT is pleased to announce that Village Automotive Group (VAG) will be sponsoring the team for the 2003 season. Owners of five (5) Boston-area auto dealerships (VAG) will provide the team with financial support and tremendous product and service discounts. Dealerships include: Boston Volvo Village, Charles River SAAB, SAAB City of Framingham, Cadillac Village of Norwood, and Honda Village in Newton.


COOL FACTS
In 2002, 80% of the team participated in at least 3 events.


MEMBER BRIEFS
Charlie Abrahams conquers the 15k, Brian Goodwin gets a CT, Steph Javaheri sets her sights on the Timberman and John Wonzy leads the way in winter racing...


MARCH BIRTHDAYS
We wish a Happy Birthday to the following team members with March Birthdays:


| | |
| --- | --- |
| 3/1 - | Maddie Shaw-Moran |
| 3/7 - | Darryl Smith |
| 3/11 - | Topher Kerr |
| 3/12 - | Rachel Pollock |
| 3/20 - | Peter Jensen |
| 3/25 - | Dan Fitzgerald |
| 3/26 - | Sarah Keller |
| 3/28 - | Kristen Donahue |
| 3/29 - | Mary Lou Tierney |
INFO COMING SOON
F.I.R.M. Grand Prix (April)
Walden Pond Swims (May)
New Triathlon Teams In The Area
This year, we will see many more teams at New England races. The growth and popularity of triathlon in the Boston area has resulted in a proliferation of teams. Cyclonauts Multisport, based out of Springfield was formed last year as a spin off from their cycling team. Team Mercury Multisport, also formed last year, has had a large number of members join in a very short period of time. The most recent team on the horizon is FastSplits Multisports. FastSplits is not only a newly formed team but also a retail store managed by former BTT'er Annie Fisher. Members of FSM include former BTT'ers Jay Ladieu and Alex Galbraith. We wish them all the best in their efforts. These new teams are helping to increase the visibility of triathlon as a sport and we look forward to seeing many of these friends and fellow athletes along the Esplanade, in Walden Pond, and at the races!

Team ID Cards
Each year, BTT distributes Team ID Cards to each of its members so that we can benefit from all the sponsor and supporter relationships that we have developed throughout the area. We are finalizing all the potential discounts and deals for 2003 and will be mailing the cards out as soon as possible. Please look for them in the mail and make sure to present the card when asked at the local (and national) merchants who require the card for purchases.

FYFAO 2003
Interested in a "winter-type-tri-training-day"? If so, then join many other "slightly-insane" team members on March 22 at 10:00am at the 2003 Freeze Your Fat Ass Off training day in Townsend, MA. This event includes a 25 - 40 mile hilly bike ride into NH followed by a 5 mile run in Townsend. Please RSVP to Sean Luitjens if you are interested or have more questions.


more info at "Training Events - FYFAO 2003" on the team Bulletin Board
Team Track Workouts
Track workouts are being held at the Harvard indoor track on Wednesday nights at 6:15pm. We've had a great showing these past few weeks and we look forward to more members getting involved. All abilities levels are welcome, from beginner to advanced. If it is your first time on the track, or you are a beginner, we will be working on drills and easing you into track running. Speed work will come when you are ready. Thanks to Dan Fitzgerald and Sarah Keller for doing such a great job coaching these workouts!


more info at "Training Events - Track Workouts" on the team Bulletin Board
New Hampshire Training Weekend
May 15 - 18, 2003 - Looking forward to better weather for training? Then look tothe Team Training Weekend! This May, we'll once again be staying at the Town Square condos at Waterville Valley, NH - complete with hot tubs, massages, and unidentified pink beverages. But it's not all about fun and games. We've got long runs, steep hills, and maybe even an uphill time trial in the works. Save the weekend and stay tuned for more details. Ken Chern will be coordinating all aspects of the weekend once again this year, so please get in contact with him if you're interested in helping out or have questions.


more info at "Members Only - NH Training Weekend" on the team Bulletin Board
Articles Online
So far this season, we've had only two new articles posted on the team website. We encourage members to share their training or race experiences through first-hand race reports. It's also great to find news or related articles for members to read. Check out new reports from February from Rachel Saks and Karen Ghiron.


more info at "Articles" on the team website
Expanded Team Bios
We will be posting the expanded member bios soon for those who have already submitted their entries. If you want to share more about yourself (and learn more about other team members), please contact Karen Ghiron and she will send you the bio questionnaire.


more info at "Members Only - 2003 Team Directory" on the team Bulletin Board
Upcoming Events
3/20 - March Team Social at The Coyote Grill, Cambridge


more info at "Social Events" on the team website
Upcoming Races


more info at "Events Calendar" on the team website