PHOTO OF THE MONTH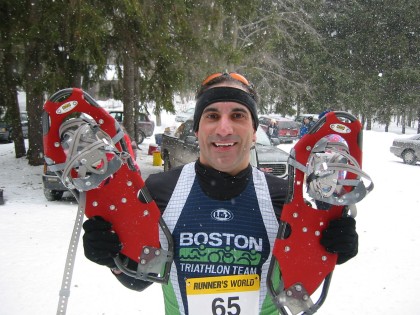 Long-time member Nic Scibelli shows off his new Atlas Snowshoes after the Curly's Record Run. Seems like lots of BTT'ers are taking this 'training' thing to new levels all year long!
FEATURED SPONSOR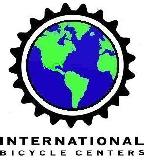 For the past year, IBC has proudly sponsored the BTT. Offering their excellent service and professional staff, outstanding product selection and expertise, IBC will continue to be our partner this year. Stay tuned for special IBC product and service specials offered over the next few months.
COOL FACTS
BTT'ers have competed in three times as many events in January compared to this time last year.
MEMBER BRIEFS
Josh Eckel and Catherine O'Leary are getting married, Scott Ribich got engaged, Sarah Keller and Jay Marschall made the 2002 Top 10 for USAT, Sean Luitjens goes under 2:00 per 100 in the OHS, Peter Jensen is moving to Hawaii (sniff, sniff), and Rachel Saks is going to LC Worlds...
FEBRUARY BIRTHDAYS
We wish a Happy Birthday to the following team members with February Birthdays:
| | |
| --- | --- |
| 2/5 - | Chris Cavallerano |
| 2/9 - | Flo Chretien |
| 2/14 - | Jen Klafin |
| 2/14 - | Chris Li |
| 2/15 - | Lynn Buttolph |
| 2/19 - | Noah Hano |
| 2/21 - | Amanda Pearson |
| 2/23 - | Mary Beth Cadwell |
| 2/24 - | Brian Goodwin |
| 2/27 - | Rob Sczupak |
INFO COMING SOON
NEM Swim Champs. (March)
F.I.R.M. Grand Prix (April)
Walden Pond Swims (May)
Team Track Workouts
Track workouts are being held at the Harvard indoor track on Wednesday nights at 6:15pm. We had a great showing this past Wednesday for our first official workout and we look forward to more members getting involved. All abilities levels are welcome, from beginner to advanced. If it is your first time on the track, or you are a beginner, we will be working on drills and easing you into track running. Speed work will come when you are ready. Thanks to Dan Fitzgerald and Sarah Keller for doing such a great job!


more info at "Track Workouts" on the team Bulletin Board

Yoga Classes
Boston Triathlon Team is happy to announce that Lauren Fawcett's Bikram Yoga is a new Team Supporter for 2003! Lauren's unlimited energy and love for Bikram yoga makes her a tremendous teacher and captivating individual. On Sunday, February 2nd, she is holding a discounted "BTT Only" yoga class as a way to introduce herself to the team. The class is at her Allston Studio (near the BU pool) and starts at 2:30pm. Please RSVP Steve Upson if you are interested in attending.


more info at "Sponsors/Supporters" on the team website
Team Kick-Off Party
Thursday, February 13, 2003, 7:30pm at International Bike, Boston - This annual event is another great opportunity for BTT'ers to meet with their fellow teammates, make some great connections and seek out those much-needed training partners for the season. Light finger-food, soda, juice and beer will be available. Please wear some of your cool BTT gear as a show of support for the team! Fit Kits for the Louis Garneau uniforms will also be available on this night (remember, the deadline for team uniform orders is the next day, February 14th). It is important that you let Ken Chern know whether or not you are attending so that we can plan properly for the number of members that will be there. See you there!


more info at "Social Events" on the team website
USAT New England Regional Awards and Expo
Sunday, February 16, 2003, 12:00 - 5:00pm - Regis College in Weston, MA is the site for the 1st Annual USAT New England Regional Awards and Expo. The exciting event will feature New England's top multisport teams, coaches and businesses. 2000 Olympic Triathlete Sheila Taormina is the special guest and admission is free! Show your support for the Boston Triathlon Team and the rest of the triathlon community at this great event. BTT has reserved a table at the expo, so come by and make your presence known!


more info at "Social Events" on the team website
New Hampshire Training Weekend
May 15 - 18, 2003 - There are only 104 days until the Annual Team Training Weekend. Where else can you spend a whole weekend with 80 of your closest triathlete friends? We'll once again be staying at the Town Square condos at Waterville Valley, NH - complete with hot tubs, massages, and unidentified pink beverages. But it's not all about fun and games. We've got long runs, steep hills, and maybe even an uphill time trial in the works. Save the weekend and stay tuned for more details. Ken Chern will be coordinating all aspects of the weekend once again this year, so please get in contact with him if you're interested in helping out or have questions.


more info coming soon at "NH Training Weekend" on the team Bulletin Board
Uniform Ordering
By now, team members should be looking at the 2003 uniform options and placing their orders. Fit Kits will be available again at the Team Kick-Off Party on 2/13/03 but if you know your sizes from last year, please place your order now so that the "try-on" process can run smoothly for those who really need it. Women: don't forget that we have recently offered the Louis Garneau Women's 1 Piece suit for purchase. It is important (as with all the LG ordered items) that we get a minimum of 16 items ordered. The deadline for all orders is February 14th at 12:00pm. No orders will be accepted after this time. We are trying to make sure that all team members receive their uniforms prior to the first F.I.R.M. points race at the end of April. Visit the UNIFORM ORDER PAGE for more information. Attached is the order spreadsheet, updated as of 1/31/02.


more info at "2003 Uniforms" on the team Bulletin Board
Expanded Team Bios
We will be posting the expanded member bios soon for those who have already submitted their entries. If you want to share more about yourself (and learn more about other team members), please contact Karen Ghiron and she will send you the bio questionnaire.


more info at "2003 Team Directory" on the team Bulletin Board
Always Seeking Race Reports
In addition to posting all race results for BTT members, we'd love to get your take on races that you've done and share with the rest of the team. Whether it's your first big race, a special event that you've done or just a have a knack for writing, please submit any reports or articles to us!


more info at "Articles" on the team website
Upcoming Events
2/13 - Team Kick-Off Party at IBC
2/16 - USAT New England Regional Awards and Expo
2/20 - February Team Social/5k Race at VFW Logan Post Somerville


more info at "Social Events" on the team website
Upcoming Races


more info at "Events Calendar" on the team website