PHOTO OF THE MONTH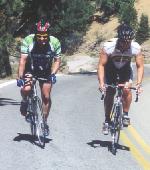 Larry Guerin, pictured here, is climbing the Cheyenne Canyon in Colorado with professional tri coach Chris Carmichael. The ride was about 4 miles long at over 10% and was one of the toughest climbs that he has ever done!
FEATURED SUPPORTER

Pacific Health Labs, makers of ACCELERADE and ENDUROX R4 will be helping fuel BTT members to success in 2003. BTT members will be offered significant team pricing with discounts at 50% off suggested retail. Click here for ordering details.
COOL FACTS
The average age of BTT men in 2003 is 34, compared to 35, which is the average age of BTT women.
MEMBER BRIEFS
Nic Scibelli turned the big 4 - 0, Ken Chern finally got to use his surgery kit at home, Oppie Oppenheimer is now a cool kid, Amy Adcock becomes an "agent" and Drew Gronewold is back in town...
JANUARY BIRTHDAYS
We wish a Happy Birthday to the following team members with January Birthdays:
| | |
| --- | --- |
| 1/2 - | Alan White |
| 1/4 - | Maggie O'Toole |
| 1/12 - | Bill Reeves |
| 1/14 - | Terry Reagan |
| 1/23 - | John Wozny |
INFO COMING SOON
Kick-Off Party (Feb)
USAT NE Expo (Feb)
NH Training Weekend (May)
2003 Is Here!
Happy New Year to all! We hope that everyone is doing well and looking forward to a great year in 2003. Even after winning the F.I.R.M. Grand Prix for the fifth year in a row, sending a record 34 members to Ironman Events, and having our best season in terms of participation rates among members this past season - 2003 still looks to be another great year of training, racing and fun! No matter what your ability level is or what your goals are for the season, there is something for everyone on BTT and we encourage you to find out what makes you great!

New Member Party
January 16, 2003 - The team membership committee, headed by Maggie O'Toole, has put together another great night of fun for the 2003 new members. For many of you, this will be your first chance to meet fellow new members as well as the members of the BTT Executive Committee. Save the date for January 16th from 7:00 to 9:00pm at Amanda Pearson's house in Cambridge. And if meeting fellow BTT'ers isn't incentive enough, keep in mind that it is also your first chance to get some cool BTT 'stuff'!


more info at "Social Events" on the team website
New Hampshire Training Weekend
May 15 - 18, 2003 - There are only 135 days until the Annual Team Training Weekend. Where else can you spend a whole weekend with 80 of your closest triathlete friends? We'll once again be staying at the Town Square condos at Waterville Valley, NH - complete with hot tubs, massages, and unidentified pink beverages. But it's not all about fun and games. We've got long runs, steep hills, and maybe even an uphill time trial in the works. Save the weekend and stay tuned for more details. Ken Chern will be coordinating all aspects of the weekend once again this year, so please get in contact with him if you're interested in helping out or have questions.


more info coming soon at "NH Training Weekend" on the team Bulletin Board
Race Goals Online
With the New Year upon us, here's one resolution to plan on: Think about your training and race goals for the coming season! What's your wish - To complete a 1/2 Ironman? To do your fastest sprint ever? To run a marathon? Writing down your goals for the year is the first step to making them a reality. Send your goals to Anna Adachi-Mejia and she will help you keep track of your goals and stay motivated. For those who want to share their race plans with teammates, please submit your "A" races to Anna (triathlon and/or other events). Check in on the website to see who's signed up for the big races this season. Visualize your triathlon dreams, write them down and you'll be amazed at what you can accomplish!


more info at "Race Goals" on the team website
Uniform Ordering
The team will be placing the 2003 Louis Garneau uniform order in early February, 2003 so that all race uniforms are received by members prior to the first F.I.R.M. points race at the end of April. We will be sending a special e-mail soon that will have a dedicated website link highlighting all items available to members, pictures, sizing charts, ordering instructions, etc.


more info coming soon at "2003 Uniforms" on the team Bulletin Board
2003 Team Directory
It's been a long time in the making, but the new Team Directory is here - just logon to the team Bulletin Board and take a look! We hope that this directory will help to keep members in touch with each other for training activities and social events. Please remember, this list is for PRIVATE team use only! Do not distribute or reproduce this list for anyone outside the team. To access the Team Directory, you will have to logon to the team Bulletin Board, go to "Members Only" and click on the "2003 Team Directory" posting. This will give you the link to get to the directory.


more info at "2003 Team Directory" on the team Bulletin Board
Always Seeking Race Reports
In addition to posting all race results for BTT members, we'd love to get your take on races that you've done and share with the rest of the team. Whether it's your first big race, a special event that you've done or just a have a knack for writing, please submit any reports or articles to us!


more info at "Articles" on the team website
USAT Registration
Once again, Boston Triathlon Team is a registered team with USA Triathlon - the governing body for triathlon. Please make sure that you register with USAT for the 2003 season by January 31, 2003. By mentioning that you are a BTT member, you will receive a discount of $3 off the yearly membership. You will also receive a discount at most races in New England as well as nationally for being a USAT member.


more info at "USA Triathlon" on the team website
Team Pictures Online
One of the great things that BTT members enjoy about our team website is the "Team Photos" section. In the past, we've compiled pictures from members, resized them and posted them online. What we'd like to try for the upcoming season is to get members who take pictures to set up "photo sites" online. This can easily be done at numerous websites, popular options being Shutterfly.com and the Kodak Picture Center. In this manner, we can still have all team members contribute photos for viewing, but they can be posted much quicker (plus it will free up much-needed resources on the team website). We will gladly link any team members' photo website to the "Team Photos" page on the BTT website at their request. We will also post other pictures that are not uploaded to these sites, but all links will still be in the same place on the "Team Photos" page.


more info at "Team Photos" on the team website
Silent Spring Institute


As we prepare for the 2003 triathlon season, Silent Spring Institute invites you to consider competing on behalf of breast cancer prevention research. We believe that the Institute – a small, dynamic non-profit that conducts pioneering research – is an ideal match for athletes who challenge themselves in the world of triathlon.


more info at "Links" on the team website
Upcoming Events
1/16 - New Member Party
1/23 - January Team Social at The Asgard
2/16 - USAT New England Regional Awards and Expo


more info at "Social Events" on the team website
Upcoming Races
all month - New England Masters One Hour Swim
1/1 - Michelob Light Hangover Classic 10k
1/1 - Run 4 New Year's Day 4 Miler
1/1 - Run Your Hangover Off 5 Miler
1/26 - Boston Prep Road Race, 16 Miler


more info at "Events Calendar" on the team website