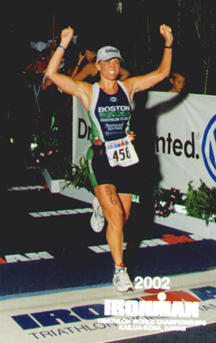 Name: Mary Beth Cadwell

Age: 33

Nickname: MB

Occupation: Art Director

Height: 5'7" Weight: 130 lbs.

Where I live and train: My husband and I live in Roslindale (which means hilly) so we have a great training ground right outside our door. I enjoy running nearby to the Arnold Arboretum or to Jamaica Pond. Itís a three-mile loop around the pond so it makes for great pickups similar to a track workout but much prettier. Biking in this area is amazing. I donít know too many great cities in the world that have so much diversity and beauty in its cycling. From my home, I can be in farmlands, quiet residential areas or on mountainous hill climbs within an hour or two. Towns like Dover, Weston, Carlisle and Concord are perfect for cycling enthusiasts. But nothing can really beat Walden Pond in its popularity for a great training ground. Where else can you go to be able to swim, bike, run and socialize with some of your best triathlon buddies? My other favorite training spot is in San Anslemo, CA, which is like a second home for me. I have family in this quaint Marin County town. It lies at the base of Mt. Tamalpais, which offers a 7 mile, switchback climb with beautiful views of Golden Gate Bridge and the Pacific Ocean. North of San Anslemo offers hours of riding through the golden hills of northern California, with nothing but farmlands, ocean views and other cyclists enjoying the same pristine surroundings. Itís heavenly!

Are you an age grouper/junior or elite? Iím an age grouper. Occasionally I enjoy jumping into the elite division to give myself that extra challenge or to get my butt kicked depending on the day.

What is your athletic background? Iíve always been an active person. My parents owned a day camp when I was younger where athletics were a focus, especially swimming. We had the best swimming program in Gloucester, MA for kids aged 4 to 13. I remember getting so excited and competitive at a very young age about swim meets and other sports like running, softball, basketball and soccer while at camp. Iíve tried every sport out there since elementary school but nothing really excited me enough to stick with it. However, when I became a lifeguard on the Gloucester Public beaches, I would bike to work, swim all day and run at lunch, then bike home. I had never heard of triathlons but I was doing them everyday.

How long I've been racing and what got me started: My first race season was in 1995, so itís been 8 fun-filled years. Once while visiting my birth mother in San Anselmo, CA, we went out to run her dogs and after two miles, I was completely out of breath while she continued on. I figured that I should be able to do what she could! So instead of starting small, I decided to set a much larger goal - to complete the Boston Marathon in the spring. I started training in January of 1995 with a 1 mile jog on an indoor treadmill. I finished the Boston Marathon as a bandit, walking the last 6 miles to the finish line at a time of 5:45. I finished with a huge smile and tears of joy running down my face. I loved the feeling of accomplishment that came with it. After the race, I knew that I loved running, but also knew that some form of cross training was better for my body over time. An editor at my first job told me about triathlons and it sounded like a lot of fun, so I bought my first bike and joined a triathlon team and the rest is history.

When/what was your first race? Memories of First Race: The Holliston Triathlon was my first race. I had been training hard, so I felt that I was in shape and ready for the race. Yet when you put it all together and your body is just learning how to go from using one muscle to the next a lot can happen. At the time I didnít know about clipless pedals so I wore my sneakers while biking. In the middle of the bike, I started to feel my right foot start to tighten to the point that I couldnít move it. I looked down to see what was going on and my shoe lace had wrapped so tightly around the pedal that I fell over on my bike and because my heart rate was probable 180 it took me 15 minutes to untangle it! Finally I made it to transition but running after biking for a first timer can be a very enlightening experience. I remember thinking that my legs are capable of doing this but they felt more like rubber then muscle.

What type of races do you compete in: Since 1995 Iíve focused on longer distance races, running 7 marathons and 6 Ironman distances races. I tend to see myself as more of an endurance athlete then a short course speedster. I do however enjoy doing the smaller local races because they keep me competitive and are great for fast transition practice and most importantly, for overall fun and the social spirit of racing with friends and teammates.

Do you have a coach? Who is it? As a competitive endurance athlete you have to learn how to compartmentalize your emotions in a race and this can be a great challenge. After qualifying for the 2002 Ironman World Championships at Ironman Florida last November, I asked a close friend and fellow teammate Karen Harnett-Monks to be my coach and help me find the desire to train for this race both emotionally and physically. I learned so much about myself as an athlete and how quality workouts and "training smart" can help one achieve their athletic goals. I would recommend to anyone looking to improve him or herself as an athlete can find many benefits to being coached whether you are a newbie or experience triathlete.

What are your goals for this season? I plan to focus more on running and shorter distance triathlons and road races. I am taking a break from Ironman distance races for a couple years so my husband and I can hopefully start a family.

How do you relax before a race? Stretching and getting some quiet time. I usually get a pep talk from my husband, we go over my goals for the race and then a hug and kiss before the start.

In races are you a leader or follower? I suppose it depends on what kind of day Iím having. If itís a good day I hope to be in the lead womenís pack in local races. If not I just follow and hope to have a good time along the way.

What is the biggest problem facing Triathlon today? DRAFTING, period! Iíve been in so many races in the past couple years where the "peleton" goes by me in groups of 10 or 15 riders. Some athletes donít care that they are cheating. I donít understand it! I enjoy this sport because itís about individual talent.

What do I see happening to triathlon in the next 5 years: This sport is growing so fast that races that used to take a couple months to fill are now taking a couple hours. The popular races like Alcatraz, Wildflower and St. Anthonyís all closed within hours of the opening of registration. Itís really crazy! I hope because of this, the sport gets more recognition through the media and more pros can start to make a living off the sport.

What's your favorite workout?: Racing at the local races on the weekends. My favorite workout is putting swimming, biking and running together and seeing how I feel from the beginning of the season to the end.

Favorite swimming location: Early morning swimming at Walden Pond has to be my favorite. Boston Triathlon Team has a group swim there every Friday morning at 6am. We socialize, swim and them go to "The Colonial Inn" for breakfast.

What kind or bike do you ride? Merlin

What is your favorite running route/location? I love to run on the Charles River in the dead of winter when the snow is on the ground and all the usual runners have retreated to the treadmill. You have the whole river to yourself and itís quiet and beautiful.

What is/are your favorite product(s)? Shaklee makes "Physique" which is a high caloric powder that you can mix with water or use to make shakes. I also use this in high concentration as my only food in an Ironman and on long training rides. "Performance" is Shakleeís version of Gatorade but has less sugar and is much lighter in taste.

Do you have any sponsors? As an individual no, but I race for Boston Triathlon Team which has many sponsors including: International Bicycle, Nantucket Nectars, Vinny Testaís and Dunkiní Donuts, just to name a few.

Person that inspires you and why: Karen Smyers and Lance Armstrong inspire me because they both have overcome huge obstacles and come out on the other end much stronger, smarter and tougher because of it. I think they both have found a unique way to perceive pain - that you can choose not to be a victim of your circumstance, but instead, every experience can teach you more valuable information about yourself and the people in your life.

If you could choose to do anything you'd like for an occupation, what would it be? I would love to be a photo/journalist for National Geographic or Outside Magazine. I would love to be able to get paid to go on adventures all around the world.

What is your favorite TV Show? Frasier, or The West Wing. The writers for both shows are brilliant!

What's your favorite book? The last great book that I read was the The Red Tent. It is a very empowering story for women.

What's your favorite website? I enjoy Triathlete Magazineís website. I think it is simple to get through and put together well. And of course Boston Triathlon Teamís website has all the info I need for the race season as well as whatís going on in the triathlon community.

Any words of wisdom for our readers? Put your goals down on paper and talk about them with friends. Make them happen no matter what obstacle/s get in your way. In the end you will be happier simply because of the integrity you showed by following through with your word. Make sure to check in with yourself now and then that youíre having fun along the way.