1 Ski Area Road
Waterville Valley, NH
800-468-2553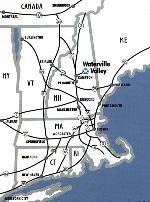 From Boston: Take I-93 N to Exit 28, then 11 miles via Rt. 49 to resort village.
(130 miles, 2 hours)

Waterville
Weather

The Boston Triathlon Team Training Weekend is set for May 13 – 16 at Waterville Valley Ski Resort in Central New Hampshire. Directions at left.

Lodging in fully equipped condos at WV resort


Breakfast, lunch and dinner each day


Saturday night dinner party with DJ and dancing


Swim: group workouts in the WV indoor pool


Bike: training rides in scenic NH


Run: miles of XC trails (w/o snow!)


Snacks, energy bars, gels, and drinks


Access to WV Athletic Club w/ sauna and jacuzzi


Good fun and great company!


9 Holes of Mid-Week Golf


Unlimited use of Outdoor Tennis Courts


1 Hour Small Boat Rental on Coccoran's Pond


2 Hours free Mountian Bike rental


Boston Body Worker is providing on-site massage at a special BTT rate of $30 per 1/2 hour. Massages will be conducted Saturday afternoon – early evening as well as Friday night (demand permitting). Contact Josh Eckel to reserve your slot now.

| | |
| --- | --- |
| | Arrive at your leisure. Check in at the Town Square Condo Office where condo assignment and keys will be available. We have most of the condos in Buildings A and B. |
| | |
| --- | --- |
| | 8:00am Rise and shine early for the swim workout at the Waterville Valley Athletic Club. |
| | Breakfast in condos afterward. Fuel up for the long ride. |
| | Bike along the scenic and deserted NH roads, many distances to suit all ability levels including the infamous Kancamagus climb. Lunch en route on long ride or sandwiches in condos. |
| | Afternoon trail run. Organized for the slow, medium, and fast runners. |
| | 4:00pm Yoga class, then relax in Jacuzzi at Waterville Valley Athletic Club. |
| | 6:30pm Happy Hour. |
| | Dinner in the condos - For those arriving late after work, we'll keep the food hot for you! |
| | |
| --- | --- |
| | 7:00am Breakfast provided in the condos – fuel up for the day. |
| | 8:00 - 9:00am Swim workout at Waterville Valley Athletic Club. |
| | Brick Day: Create your own bike-run distances. The ultimate trail run – summit the WV mountain! |
| | Lunch available in the condos or en route if out on the bike. |
| | 4:00pm Yoga class, then relax in Jacuzzi at Waterville Valley Athletic Club. |
| | Enjoy a massage at the condos. |
| | 6:30pm Happy Hour. |
| | Dinner Party - DJ & dancing to follow. |
| | |
| --- | --- |
| | Time Trial Duathlon. Get out your aerohelmet and get ready to go all out for a brick-like duathlon. Riders leave every 30 seconds for a race against the clock. |
| | Cool down with a short swim, ride, run or just relax on the town square. |
| | Check out early afternoon. |
as of 4/12/04:

Arriving Thursday:
Steve Upson
Alan White
Tim Gallagher
Regina O'Toole
Scott Ribich
Karen Ghiron +1
Steve Sian
Dave Javaheri
John Wozny
Joe Kurtz
Mike Hollywood
Austin Whitman
Terry Reagan +1
Maddy Moran
Michael Moran
Sean Scott
Ken Chern
Rachel Saks
Annie Conklin
Jay Marschall
Larissa Lucas
Catherine Eckel
Josh Eckel
Mary Beth Cadwell
Pete Cadwell
Ece Karatan +1
KC Connolly
Josh Fisher
Matt Pokress
Colleen Flanigan
Janice Biederman
Dave Mak
Sarah Keller
Laurie Damianos
Rip Reeves
Suzie Reeves
Jeff Aronis
Alegra Calder
Gabe Grant
Maggie O'Toole
Evan Israelson


Arriving Friday:
Flo Chretien
Bill Reeves
Jeff Oppenheimer
Roma Kusznir +1
Katie O'Dair +1
Mat Davenport
Juli Jones
Jeff Daily
Kristel Kurtz
Mike Schiano
Liz Hale
Vince Farber
Matt Bergin
Mary Lou Tierney
Chris Ricker